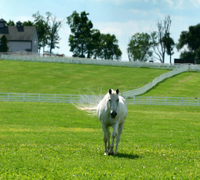 The Jockey Club, Keeneland Race Course, the Breeders' Cup and other groups and individuals from within the Thoroughbred racing industry have united in a new program to help ensure proper care for retired racehorses. The Thoroughbred Aftercare Alliance was announced on Feb. 9, 2012 and could begin operations as soon as late 2012.
The TAA will have two main functions. The first will be to create accreditation guidelines for facilities that provide retirement, retraining or rehoming for ex-racehorses. The Code of Standards for aftercare facilities will cover operations, education, horse management, facilities and adoption policies. The TAA will accredit facilities that meet the requirements of the code.
The second function will be to assist with fundraising for approved facilities. Funds raised and awarded by the TAA will be directed to be used for costs related to the care and training of the horses rather than administrative or fundraising costs for the facility.
"It is our responsibility as owners, tracks, breeders, trainers, jockeys, bloodstock agents, and anyone who has a stake in the game to take responsibility for the aftercare of these great animals who are the keystone of our sport," said TAA board President and Thoroughbred owner Jack Wolf. "Securing support and funding from Breeders' Cup, The Jockey Club, Keeneland and so many other great organizations speaks to the credibility and importance of our effort and is so greatly appreciated."
The TAA will be adding additional staff members and will announce more updates as they become available. The nonprofit group will be headquartered in Lexington, Ky.
Further Reading
TRF seeks sponsors for companion horses
Thoroughbred Incentive Program encourages owners to compete with their ex-racers
Thoroughbred Horse Show Association puts the spotlight on ex-racers
TRF announces donation match challenge