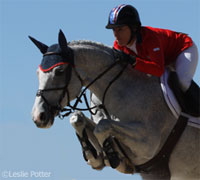 On Tuesday, the United States Equestrian Federation (USEF) released the name of the next Chef d'Equipe and Technical Advisor of the U.S. Show Jumping Team. Olympic veteran Robert Ridland will take the reins from George Morris when he retires in 2013.
Ridland, of southern California, represented the United States in Show Jumping at the 1976 Olympics in Montreal. More recently he has worked as a course designer and has managed competitions in the including the Washington International Horse Show and the Rolex FEI World Cup Finals when they were held in Las Vegas. Additionally, he's been a member of the USEF show jumping committee and a delicate to the Fédération Equestre Internationale.
Ridland will undoubtedly have some big boots to fill as his predecessor is an icon in the sport. George Morris will have held the coach position for six years by the end of his tenure in 2013 and has long been respected as a driving force in American show jumping and hunt seat riding. Morris announced his plans to step down early last year.
The USEF received six applications for the position, but the names of the applicants will not be released. The Show Jumping Eligible Athlete Committee and Show Jumping High Performance Committee recommended Ridland to the Executive Committee, which gave its approval pending contract negotiation.