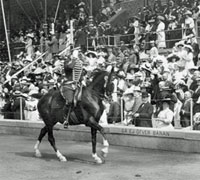 Sweden's
Carl Bonde and Emperor won the individual Dressage gold on home ground in
Stockholm at the 1912 Olympic Games. Photo courtesy FEI
This year's summer Olympics in London will mark a milestone for international equestrian sport. The first Olympic Games to include dressage, show jumping and eventing was 100 years ago at the Stockholm, Sweden games. The three equestrian events have been held at every Olympics since then.
The first incarnation of Olympic equestrianism actually took place during the 1900 Paris Games, but the sports were not the same as the Olympic disciplines of today. Horses and riders competed in polo, high jump, long jump, and a jumping event more similar to modern show jumping. After Paris, equestrian sports were dropped, spare a return of polo in 1908, until 1912 when Sweden's Count Clarence von Rosen lobbied for its inclusion.
The original Olympic equestrians were military riders. Beginning with the 1952 games, the events were opened to civilians and to women, making equestrianism the first sport where men and women competed against each other.
In recent history, equestrian sports have been at risk of exclusion from Olympic competition. Confusion and controversy surrounding the judging practices in dressage and the high risk of injury to horses and riders in the cross-country phase of eventing have caused the International Olympic Committee to look critically at equestrian competition. But for now, the sports are safe, and earlier this week, Fédération Equestre Internationale President Princess Haya spoke with optimism about the future.
"We are really proud to be celebrating 100 years of Olympic equestrian sport at the London 2012 Games and it's wonderful that we will be doing that at an iconic venue like Greenwich Park," said Haya.
"Greenwich Park is the second largest venue in London 2012 and tickets for the Cross Country were one of the fastest to sell out. Demand has been so high for our sport that tickets for all the equestrian disciplines were sold out in a matter of weeks, establishing us as one of the most popular sports in the Games.
"This is a real milestone for our sport and is worthy of celebration as it confirms that we are really competing with the other top sports on the number of spectators we can pull in.
"We have worked tirelessly over the past number of years to ensure that horse sport falls in line with all the IOC requirements, that it is clean, transparent, cost effective and safe. The IOC conducts a thorough review of the Olympic Games program after each edition of the Games and of course that applies to all the sports on the program not only to equestrian sport.
"Protecting our status in the Olympic Movement is very important to the FEI, and my role as a member of the IOC provides me with the opportunity to promote our sport and our Federation in the future. We have made great strides in the past 100 years and we are now looking forward to another 100 years of equestrian sport in the Olympic Games."
Further Reading
A Look Back at the 2008 Olympic Games