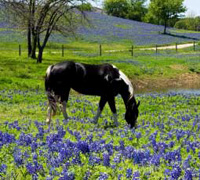 For the second year in a row, Stolen Horse International (SHI, also known as NetPosse.com) is running a fundraiser through FlowerPowerFundraising.com. Through April 27, 2012, SHI will receive half of the sales made through their Flower Power fundraising site.
To purchase flowers for the NetPosse.com fundraiser, visit
www.flowerpowerfundraising.com/campaign?campaign_id=9278
SHI's mission is to provide a comprehensive theft awareness program to all facets of the horse industry and offer educational opportunities for horse enthusiasts of all types and across all disciplines. Owners of horses that have been stolen or have otherwise gone missing can file a missing horse report at NetPosse.com. A flyer is then made available to print out and post around the area where the horse went missing. Flyers can also be shared via email or social networking. Spreading the word about missing horses increases the likelihood of horse and rider being reunited.
Additionally, SHI serves as a central point for information and education on horse theft prevention. Founder Debi Metcalfe travels to horse expos and events to share knowledge on keeping horses and farms safe from the threat of theft.
For information, visit NetPosse.com
Further Reading
SHI seeks donations from equine artists
Horse Theft Prevention Tips
Start your spring garden and help Netposse