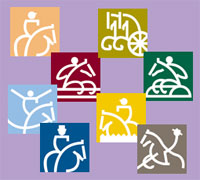 The Fédération Equestre Internationale (FEI), the world governing body for horse sport, is calling on equestrian enthusiasts and designers of all ages around the world to enter its online competition to create new "pictograms" for its disciplines.
The competition, announced last week on
the FEI's Facebook page
and
www.fei.org
, is open through April 19, 2012, with no limit on the number of entries per person.
The winning designer, whose submission will inspire the FEI's brand new pictograms, will receive a prize package including two VIP tickets to a top local FEI event, the latest iPad and an annual subscription to FEI TV, the FEI's official video platform.
Two runners-up will also receive annual subscriptions to FEI TV and all entries will be featured in a dedicated gallery on FEI Facebook.
The new pictograms, inspired by the winning entry and refined by an international design agency, will be used by the FEI, its 132 National Federations and organizers of global FEI competitions.
"The FEI pictograms are our visual identity," explained FEI President HRH Princess Haya. "They are universally recognized symbols for our diverse range of equestrian and para-equestrian disciplines. As they are pictures rather than words, they can be understood by everyone anywhere in the world.
"As our sport continues to expand rapidly, we need to refresh these symbols so that they truly epitomize our disciplines and appeal to our increasingly wide international audiences.
"We are excited to be reaching out to our huge equestrian community as well as welcoming newcomers to our sport to help us create this exciting and new symbolic identity."
The new FEI pictograms will replace those currently in use, which were designed for the FEI World Equestrian Games™ 2002 in Jerez de la Frontera, Spain, and will be launched this summer.
For more information, visit www.fei.org/pictograms