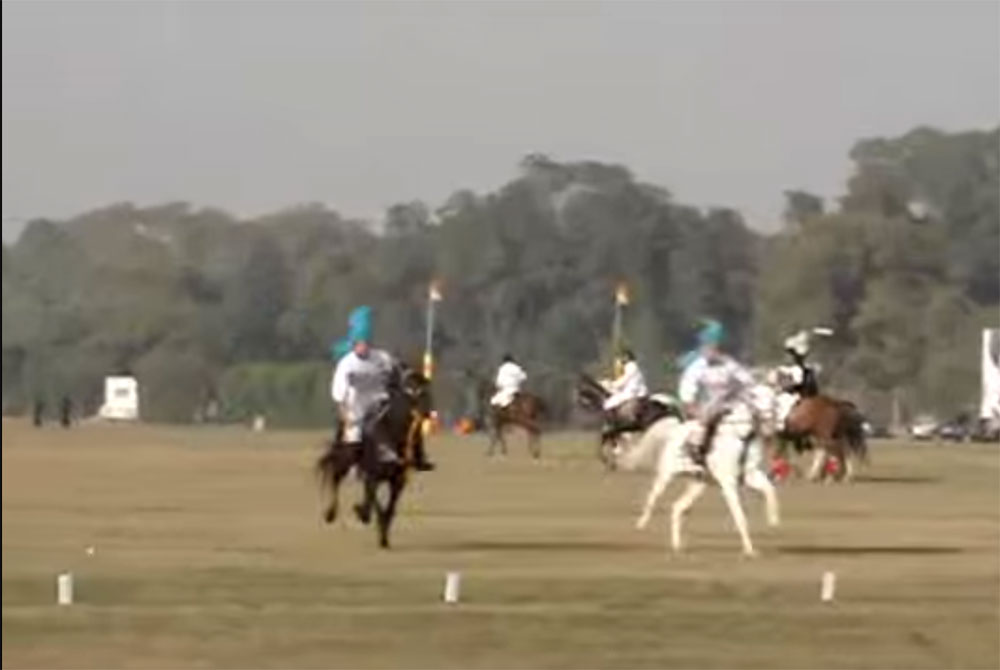 When the 2010 Alltech FEI World Equestrian Games came to the United States, American horse enthusiasts became well-versed in the eight equestrian disciplines that were included there. But did you know that the Fédération Equestre Internationale (FEI) recognizes two other horse sports as regional disciplines? Although they haven't quite gained the international following of the more mainstream disciplines, horseball and tent-pegging are recognized and governed by the FEI and have a wide following in some parts of the world.
In tent-pegging competition, riders charge at a full gallop across a straight course 130-200 meters long holding a lance or sword. The weapon is used to pick up wooden or cardboard pegs stuck in the ground. The pegs are placed 1 meter or 2.5 meters apart, depending on the specific event. Riders must cross the course at a designated speed with half a penalty point taken for each second over the allotted time.
Riders earn six points for each peg carried at least 10 meters when using cardboard or 15 meters when using wood. Removing a peg, but not carrying it the full distance earns four points. Striking a peg on the face but not dislodging it from the ground is worth two points.
There are several variations on the sport to add different challenges for riders. Variations include rings and peg, where riders must spear two rings before a single peg, and lemons and peg where sword-wielding riders slice hanging fruits before taking a peg.
Like many equestrian disciplines, tent-pegging traces its origins to warfare. The most commonly-accepted history of the sport finds its beginnings with cavalry soldiers who fought troops mounted on elephants in India in the Middle Ages. The soldiers found that the only way to incapacitate the armored elephants was to spear them in the toe, and tent-pegging was established as a training method for this battle tactic. The name of the sport comes from a less-likely origin story where cavalry riders would raid enemy camps before dawn, galloping through and removing the tent pegs with their spears.
Today, tent-pegging is most popular in India and Pakistan, but has spread to Australia, the United Kingdom, South Africa and around Asia and the Middle East. The sport hasn't quite caught on in North America, although Team Canada had fairly recent success, winning the 2007 and 2008 International Championships in Oman and India, respectively.
To learn more about tent-pegging, visit ustpf.org.
Tomorrow: A look at horseball.