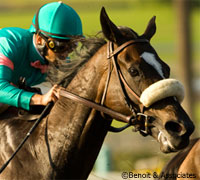 The Rood & Riddle Foundation, the non-profit group affiliated with Rood & Riddle Equine Hospital in Lexington, Ky, has announced that one of Zenyatta's halters will be auctioned with the proceeds going to charity. The eBay auction launched on March 14 and will continue through Wednesday, March 21.
Proceeds from the auction will be donated to the Bluegrass Chapter of the American Red Cross to help with disaster relief efforts in parts of Kentucky where recent tornadoes caused devastation and loss of human and animal lives.
The halter was worn by Zenyatta during her broodmare career at Lane's End Farm in Versailles, Kentucky. It bears a nameplate and will be shipped with a letter of authenticity signed by Lane's End owner William Farish.
Across the country, a baby shower is scheduled at Zenyatta's home track, Santa Anita Park in California on Saturday, March 17. Fans are invited to visit and will receive a free Zenyatta poster. An autograph session with members of Team Zenyatta will take place at 11:30 a.m. Fans are asked to contribute a small donation which will benefit Thoroughbred charities CANTER and Old Friends.
Former Horse of the Year Zenyatta gave birth to her first foal on March 8, a currently-unnamed dark bay colt by Bernardini.