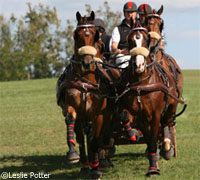 Since 1993, Live Oak has been one of the top North American combined driving events (CDE), bringing drivers and their teams from as far away as Europe to compete at Florida's historic Live Oak Plantation.
With the 2012 event, Live Oak's organizers have announced that a show jumping competition will be held in addition to the CDE. The show management says that this will be the first time that world class driving and show jumping events have been held at the same time and place in Florida.
Combined driving is structured similarly to eventing. On the first day of competition, drivers compete in driven dressage. The second day is the exciting marathon phase, where drivers navigate through a series of hazards on a cross-country course. The final day is the obstacle section which tests the speed and agility of the teams as they navigate a course of pairs of cones in the arena.
The show jumping competition includes a $15,000 Welcome Stake on Friday, March 23 and the $50,000 Live Oak Grand Prix on Saturday afternoon. A $10,000 G&C Farm Leading Rider Award will be presented to the rider with the highest number of points at the end of the two days of jumper competition.
Live Oak Plantation is owned by the family of Chester Weber, multi-titled national driving champion. The 4,500 acre farm is home to a Thoroughbred breeding operation in addition to its famous combined driving facility.
For more information, visit cailiveoak.com