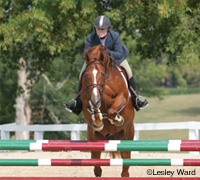 The American Youth Horse Council was created nearly 40 years ago to serve as a support center for youth programs and their adult leaders in the horse industry. One of the AYHC's most visible activities is its annual symposium which takes place this weekend in Herndon, Virginia. Youth leaders from 4-H, Pony Club, FFA and other equine and agricultural groups will participate in seminars, discussions and demonstrations covering a variety of horse industry topics. Different tracks are offered for youth, adult and professional participants.
Topics covered at this year's symposium include:
Goal setting
Horse judging contests
Teaching equine nutrition
Horsebowl
Marketing the horse industry
Drill teams
Horse industry ethics
Horse industry legislative issues
Veterinarian Dr. Tom Lenz, chairman of the Unwanted Horse Coalition, will present one of two keynote addresses for the conference. His address will discuss the present situation regarding the overpopulation of horses. The other keynote will be given by Dr. Jim Wand at the awards banquet on Saturday evening. Dr. Wand will demonstrate the effects of positive hypnosis, such as improving athletic or academic performance and increasing self-confidence.
On Saturday morning, symposium participants will visit Frying Pan Farm Park for arena demonstrations, which will include a presentation of Chincoteague Ponies and American Indian riding. Some participants will get to experience riding a cutting horse under the direction of NCHA trainer Jim McDonough.
For more information, visit www.ayhc.com