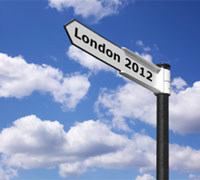 Have you ever dreamed of going to the Olympics? With a contest from the 2012 London Olympic Games, you don't have to have a horse that piaffes like Totilas, jumps like Authentic or flies down the cross-country course like McKinlaigh to get to the games. You just have to do your best.
The Show Your Best contest invites Olympic enthusiasts from around the globe to submit a video showing their personal best. You don't have to be competing in one of the Olympic equestrian disciplines; the contest is seeking videos of personal achievement in any athletic or non-athletic endeavor. Some of the winning clips will be used for an Olympic promotional campaign titled, "The Best of Us" and may be seen on television worldwide.
Anyone over the age of 13 is invited to enter the contest. The video will be judged on the following criteria:
How well it represents the Olympic values of excellence, friendship and respect;
How well it demonstrates the idea of "showing your best";
How inspiring the video is overall.
The finalists will be chosen by online voting, and the winners will be selected by a panel of Olympians and judges. The grand prizes are two trips to the 2012 Summer Olympics in London. Other monthly prizes will also be awarded.
Submissions are being accepted until September 2012, and entrants can enter as many clips as they'd like.
For more information, visit showyourbest.olympic.org