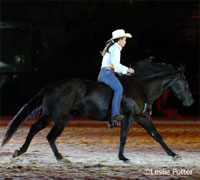 Stacy Westfall will be the headlining clinician at Horsefest in Springfield, Mo., March 30-April 1. Photo: Leslie Potter
From March 30-April 1, 2012, the Ozark Empire Fairgrounds in Springfield, Mo. will host equine enthusiasts from around the Midwest for the Horsefest equine expo.
A variety of clinics and demos will run over the three days. Topics include:
Hoof care
Defining gaits
Saddle fitting
Endurance riding
Gaited mules and horses
The problem horse
Nutrition for insulin resistant horses
Champion reiner and popular clinician Stacy Westfall will be offering clinics throughout the weekend. Her topics include:
Reading your horse's body language
Improving steering and teaching spinning
Teaching your horse to stop, beginning to bridleless
Teaching your horse to bow
Basic body control
Bridleless riding explained
Ground driving
Outside of educational clinics, Horsefest offers equine entertainment throughout the weekend. The Rawhide and Dusty show from nearby Sullivan, Mo, features wild-west style trick riding and even pyrotechnics. The Ulitmate Horsemens Challenge Association is an obstacle competition inspired by the Extreme Cowboy Races. Cowboy mounted shooting will take place during the Horsefest Shoot-Out on both Saturday and Sunday. Finally, the Invitational NBHA Barrel Racing Showdown will feature some of the best barrel racers from Arkansas, Oklahoma, Kansas and Missouri on Saturday morning.
For more information and a full schedule of events, visit www.horsefest.net.