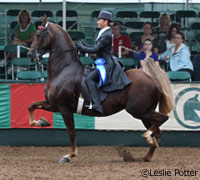 The biannual Saddle Seat Equitation World Cup will be taking place in South Africa this year, and on March 30 and 31, top riders from around the country will be competing for their chance to represent the United States.
The World Cup consists of separate competitions for three-gaited and
five-gaited
equitation. Saddle seat is an American invention, and historically, the U.S. teams have been the ones to beat. However, the South African teams have earned several gold medals since the World Cup's inception in 1992 and will also be top contenders this year. Other countries competing include Namibia, Canada and Great Britain.
At the finals, riders will be mounted on horses that they have never ridden before. To find a team of riders best suited for the pressure of catch-riding, competitors at this weekend's trials will ride William Woods University school horses with minimal warm-up time. Each competitor will be judged by a panel of five judges while riding two different horses on the rail and in two equitation patterns.
Entry into the trials is limited to junior and amateur riders age 14 and older. Riders qualify for the three-gaited trials by winning one of the six UPHA Challenge Cup finals, the USEF Saddle Seat Medal Final, the USEF Amateur Adult Saddle Seat Medal Final, the American Morgan Horse Association Medal Final and the Arabian Horse Association Medal Final. This allows for representation from all of the major saddle seat breeds.
Two riders receive automatic bids for the five-gaited trials by winning the UPHA Five-Gaited Horsemanship Finals or the National Show Horse Five-Gaited Horsemanship Finals. The remaining spots are selected from riders who have submitted an application with reference letters and a video demonstrating their riding ability.
Saddle seat equitation is governed by the United States Equestrian Federation (USEF) but is not an FEI-recognized sport and is little-known outside of the Saddlebred, Arabian and Morgan communities in the United States. However, with the continued success of the World Cup over the past twenty years, the sport's supporters have raised its international profile. In 2011, the USEF announced that it would be providing support for the World Cup teams. This year's trials will mark the first done under the direction of the USEF.