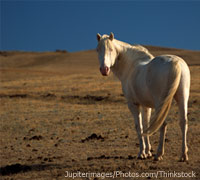 Do we need horse slaughter in America? This question has proven to be a divisive one within the equestrian community, but with the recent federal budget changes that lower the barrier to opening a slaughter facility in the United States, discussion of the issue has become necessary.
In response to a planned Summit of the Horse by slaughter advocacy group United Horsemen, the equine welfare and anti-slaughter group Respect4Horses planned its own "Summit of the Live Horse," which takes place today in Oklahoma City. United Horsemen
recently announced
that they would be postponing their summit for next winter in order to focus on other projects, but the Summit of the Live Horse will continue as planned.
In addition to questions around domestic horse slaughter, the Summit of the Live Horse will address issues related to wild horse management. Panelists at the summit include:
Scott Beckstead, Humane Society of the United States
Carolyn Schnurr, American Society for the Prevention of Cruelty to Animals
Ginger Kathrens, The Cloud Foundation
Simone Netherlands, Respect4Horses
R.T. Fitch, Wild Horse Freedom Federation
Brogan Horton, Animal Rescue Unit
To view the live webcast of the Summit of the Live Horse press conference from 12 p.m . Central Time (1 p.m. Eastern), visit www.respect4horses.com