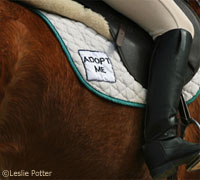 Thoroughbreds For All! is an evening of education and fellowship for people who favor off-the-track Thoroughbreds combined with an invitation for equestrians to shop in Kentucky for the Thoroughbred of their dreams. The evening event starts shortly following the Rolex cross country at 5pm on Saturday, April 28 fifteen miles from the Kentucky Horse Park in the covered arena at West Wind Farm, 4787 Haley Rd., Lexington KY 40516.
Highlights will include two-time World Champion Bruce Davidson alongside Rolex veterans Dorothy Crowell and Cathy Wieshhoff evaluating the potential of recently retired racehorses available for adoption through New Vocations. Hall of Fame Jockey
Chris McCarron
and students from the North American Racing Academy will demonstrate how racehorses are ridden and how jockeys and exercise riders develop skills that all equestrian should learn. Demonstrations to also include working with retired racehorses at various stages of training as well as a special appearance by the 1994 World Equestrian Games silver medalist and 1998 top-placed American at Rolex, Molokai, a Kentucky-bred racehorse.
"New Vocations is thrilled to be hosting this event as a way of showcasing not only our own horses but also the hundreds of other off-the-track Thoroughbreds in central Kentucky to the fans of the Rolex Kentucky Three Day Event," says New Vocations Program Director Anna Ford. "Putting highly respected equestrians like Chris McCarron and Bruce Davidson under one roof creates a dynamic educational opportunity."
"The Retired Racehorse Training Project sees this collaboration as a model for future Thoroughbreds For All! events throughout the country," says RRTP President Steuart Pittman. "Combining public education with a marketplace for buyers and sellers to meet is a formula that has potential to increase demand for ex-racehorses everywhere. That is good for the horses, good for the racing industry, and good for the next generation of riders."
All sessions will be moderated by Steuart Pittman of RRTP and Anna Ford of New Vocations.The event will run from 5pm to 9pm and will include dinner. Tickets are available for purchase online here for $35 each with space limited initially to 300 people. Additional tickets may be available in the days preceding the event.
In addition to the Saturday evening event, Thoroughbreds For All! includes a printed and online catalogue of Thoroughbred ex-racehorses available for purchase or adoption in central Kentucky. The online catalogue will appear on the RRTP website and be sorted by sponsoring organizations or farms with mapping to the locations of the horses. The print catalogue will distributed through sponsoring vendors and organizations at the Kentucky Horse Park.
Proceeds from the event will benefit New Vocations Racehorse Adoption Program and Retired Racehorse Training Project, both are 501(c) 3 charitable organizations.
New Vocations Racehorse Adoption Program
Founded in 1992, New Vocations has become the largest racehorse adoption program in the country and has facilities in Ohio, Michigan, Pennsylvania, Kentucky, and Tennessee. The program's mission is to rehab, retrain, and rehome retired racehorses. In 2011 the program rehomed 429 retired racehorses. Working directly with owners and trainers who need aftercare for horses leaving the track, the program currently receives horses from more than 30 racetracks. New Vocations has a sound adoption system that is proven to move a large number of horses in a relatively short period of time. The program focuses on adoption rather than retirement, believing that each horse deserves to have an individual home and purpose. www.horseadoption.com
Retired Racehorse Training Project
The Retired Racehorse Training Project is an effort to increase demand for Thoroughbred ex-race horses for pleasure and sport through public events, clinics, videos, training publications, and internet tools. Its Retired Racehorse Trainer Challenge recently drew 3,000 people to its finale in Pennsylvania, and its web site attracted 18,500 individual users in the first two months of this year. The RRTP Board of Directors is made up of Thoroughbred advocates from both the racing and sport horse industries, and is led by Maryland-based trainer Steuart Pittman. For a full menu of RRTP activities, including Trainer Directory, Sources For Horses Directory, Bloodline Brag, Free Classifieds, Trainer Challenge, Apprenticeship Program, Educational Resources, and Calendar go to www.retiredracehorsetraining.org.