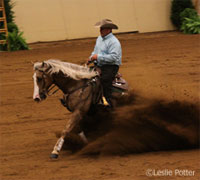 Shawn Flarida and Wimps Chocolate Chip earned first place at the 2012 Ariat Kentucky Cup Reining.
Photo: Leslie Potter
After two days of serious dressage competition for the Rolex Kentucky Three-Day Event, visitors to the Kentucky Horse Park moved over the Alltech Arena on Friday evening for a night of world-class reining competition.
Among the competitors were all four members of the U.S. reining team from the
2010 Alltech FEI World Equestrian Games
and other top professional and non-pro reiners from the U.S. and Canada. After 17 of 18 rides, the scores had steadily climbed up to 224, with that top score going to WEG individual gold medalist Tom McCutcheon. But the 18th and final ride of the night from veteran competitor Shawn Flarida took a decisive victory with a score of 228.
Flarida rode Wimpy's Chocolate Chip with incredible precision as the pair turned in an exciting pattern 10 from the NRHA book. Although the scores suggest he was all business in the pen, it was clear Flarida was having a good time with his horse.
"I had a lot of fun. I've been around [Wimpy's Chocolate Chip] since he was three years old." said Flarida. "The funnest part of that horse is you can run him and he comes right back. As long as you run him down there and say the word 'whoa,' he's gonna stop. I have a lot of enjoyment playing with that horse."
McCutcheon held on to his second place position with his mount, Chic Olena Starbuck.
"Chic Olena Starbuck has been a really great horse for me," he said. "I showed her as a three-year-old, then gave her to her owner for a couple of years, and then I stole her back. She's just really consistent. It's hard to find a horse that age that can be that consistent, and tonight that's just what she was."
In addition to the $50,000 individual competition, the Ariat Kentucky Cup features a team competition. Each rider competed as part of one of six teams. The scores were added together at the end of the night to determine the team champion. This year's winner was Team SmartPak with McCutcheon and his wife Mandy, the first female reiner to earn million-dollar rider status, and last year's reserve freestyle world champion, Pete Kyle.
When asked how the Kentucky Cup compares to other major shows on the reining circuit, such as the National Reining Breeders Classic (NRBC) that took place last week, the riders agreed that the atmosphere was a bit more fun and relaxed.
"We really enjoy this event," said Kyle. "I don't think it's as much pressure as the NRBC, but we realize we want to come here and represent our sport and do a really good job because we are in front of so many new people to our discipline. We're really, really proud that they've invited us."
"It's so fun to come to Kentucky and show in this arena," said Mandy McCutcheon. "But it makes me really nervous because I don't want to let my teammates down! I don't know if it's more pressure than the NRBC or the futurity but I definitely don't want to let these guys down."
"Yeah, that's my wife, so it's way more pressure," quipped Tom McCutcheon. "You don't want to let her down!"
Reining competition continues on Saturday night with the second Freestyle Reining World Championship. For more information, visit KentuckyReining.com.
See all Rolex week coverage >>