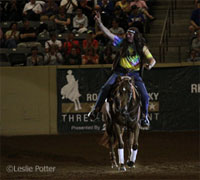 Pete Kyle and A Ruf Gal took top honors with a 1960s-themed freestyle. Photo: Leslie Potter
When Pete Kyle's name appears on the entry list for a reining freestyle, you know you're going to be entertained.
Returning to the World Championship Freestyle Reining at the Kentucky Horse Park after a second place finish last year, Kyle won over the judges and the crowd with his 1960s revisited routine. Kyle's mount, A Ruf Gal, also competed in yesterday's Kentucky Cup.
"I always look for songs that people will recognize and are fun that people can get into," said Kyle. "I try to keep the crowd involved with me. I'm fortunate to have really nice horses, and [freestyle] is good for them because it breaks up the routine of that normal pattern, so it's a little more fun for them, I think. And it enables me to have fun with the crowd and make it—hopefully—fun for everyone."
Last year's champions, Shane Brown and Houston Shine, returned with a new routine to Blake Shelton's "God Gave Me You." Brown selected the song, with help from his wife, as a tribute to his horse.
In third place was Texas A&M equestrian team member Laura Sumrall with her mare, Einstein's Fancy Pine. At 19, Sumrall was the youngest rider in the competition, and she enjoyed taking in the new experience.
"It really is surreal," said Sumrall. "I'm so blessed to be here. I'm in awe of [Brown and Kyle] I'm just a little fish in a small pond looking into this big world. It's been really neat just to be here and watch these guys compete."
One of the highlights of the World Championship Freestyle Reining is that guest riders from the eventing world are invited to compete. Because the competition happens in conjunction with the Rolex Kentucky Three-Day Event, this crossover helps draw fans from across the park to come over and watch the reining competition. Last year, David O'Connor earned a respectable placing after demonstrating his skills at bridleless reining. This year, he and fellow celebrity competitor, jockey Chris McCarron both had to scratch their entries. However, Olympic eventers Karen O'Connor and Gina Miles both had a go at reining to a wildly cheering crowd.
Karen O'Connor, who had already ridden two horses during the Rolex cross-country phase earlier in the day, traded in her breeches and tall boots for chaps and a cowboy hat and catch rode Shane Brown's mount, Shepherd Star and put in a respectable effort with a smile on her face throughout the pattern.
Representing Riders4Helmets, Miles entered the arena on IRA Top Gunner while sporting her stylish black and pink Charles Owen helmet. Miles rode an enthusiastic, if unpolished, pattern to Katy Perry's pop anthem, "California Girls."
With two successful years of eventing crossing over on to reining's turf, could a reining-goes-eventing showcase be in the future? This year's top reiners wouldn't rule it out.
"I went down to Florida last year with Karen O'Connor for a charity event and she had to do working cow horse, and I had to get on her horses and jump fences," said Pete Kyle. "It was fun. It was a little scary. I only biffed a couple of times while practicing, but I made it through. It's fun, and I really respect all the disciplines."
"I'm on the equestrian team at Texas A&M and we did a switch day [with the hunt seat team] and that was so much fun," said Sumrall. "I can't wait to do it again."
For full results, visit KentuckyReining.com.
See all Rolex week coverage >>