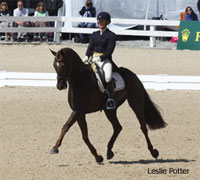 Allison Springer and Arthur are in the lead after the dressage phase of the 2012 Rolex Kentucky Three-Day Event. Photo: Leslie Potter
After the second and final day of dressage at the 2012 Rolex Kentucky Three-Day Event,
yesterday's leader, Boyd Martin, dropped to sixth place as an entirely new top five was
established.
Riding just before the lunch break, Allison Springer and her long-time partner, the 13-year-old
Irish Sport Horse gelding, Arthur, were the only ones to crack the 40 penalty mark. Scoring a
39.8, Arthur, who is well-known for being spooky, held it together and showed off the top-notch
dressage work he is capable of. "I have a different attitude this year," said Springer. "Normally
I put a lot of pressure on myself to produce a result, and I'd love to represent my country and
win medals, but the path on this horse is a specific one. I have to concentrate more on keeping
him as correct and relaxed and confident in me as I can. He won at The Fork [Advanced Horse
Trials] before coming here, but I wasn't focused on winning there, just producing [our] best ride."
Springer was in third place after dressage at last year's Rolex, but an unfortunate fall from
Arthur at the third-to-last cross-country fence ended their weekend abruptly. When asked how
she felt about cross-country this year, Springer said, "I know what I need to do to do my best
tomorrow; I'm fortunate to have had a long career like this with one horse, and he has a lot more
years left in him." There's no doubt that a superb result at Rolex this year will help their chances
of making the U.S. Olympic team in London this summer.
Completing dressage in second place with a score of 41.3 penalties was William Fox-Pitt of
Great Britain, riding his 2011 Burghley CCI**** winner, the 12-year-old Thoroughbred gelding
Parklane Hawk. "I was very pleased with dressage; he did some lovely work, and he's got great
ability and good focus," said Fox-Pitt. "It wasn't perfect, and the annoying thing is that the blips
he made this year he didn't do last year [at Burghley]. He had moments of tension, and after big
four-star like Burghley, they're on their toes coming out of the season with a bit of a bang and
can feel a bit edgy, which can prove to be expensive. But to be behind a beautiful horse like
Arthur is just fine. This week will tell me more about which horse is going to the Olympics; if he
goes well, he could be the one."
Jumping into third place was a four-star first-timer, the 9-year-old Irish Sport Horse gelding
Loughan Glen, ridden by Clark Montgomery. Scoring an impressive 43.2 penalties, Montgomery
is in no hurry to push the horse to make the U.S. Olympic team, although it is certainly a
possibility with a good result at Rolex. "[Loughan Glen] is a pleaser who wants to do his job,"
said Montgomery. "He handled the atmosphere here today so well, which makes him an
awesome competitor. The cross-country course tomorrow will be the hardest he's seen so
far, and I'll try to be competitive, but if I need to slow down or take an option, he needs to gain
confidence more than he needs to win here."
Stay tuned on Saturday when cross-country gets started at 10 a.m. For more scores and
information, go to www.rk3de.org
Final Rolex dressage results:
Allison Springer (USA)/Arthur – 39.8
William Fox-Pitt (GBR)/Parklane Hawk – 41.3
Clark Montgomery (USA)/Loughan Glen – 43.2
Karen O'Connor (USA)/Mr. Medicott – 44.2
Jonathan Padget (NZL)/Clifton Promise – 44.8
Boyd Martin (USA)/Remington XXV – 45.3
Michael Pollard (USA)/Icarus – 46.7
Lucy Wiegersma (GBR)/Granntevka Prince – 47.5
Karen O'Connor (USA)/Veronica – 47.8
Andrew Nicholson (NZL)/Calico Joe – 48.7
See all Rolex week coverage >>