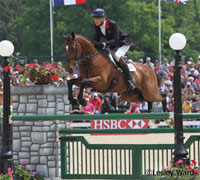 William Fox-Pitt of Great Britain won his second Rolex Kentucky Three-Day Event with Parklane Hawk. His previous victory was in 2010 aboard Cool Mountain. Photo: Lesley Ward
Even with one rail down, William Fox-Pitt of Great Britain is officially on a roll, winning the 2012 Rolex Kentucky Three-Day Event CCI****. After taking the top prize at Rolex for the first time in 2010 (aboard Cool Mountain), he won team gold and individual silver medals at the 2010 Alltech FEI World Equestrian Games. In 2011, he won the Land Rover Burghley Horse Trials CCI****, setting him up for a run at the Rolex Grand Slam of Eventing.
The Grand Slam comes with a prize of $350,000 for any rider who consecutively wins Rolex, Badminton and Burghley in any order (a specific three of the six CCI**** events in the world). By winning Rolex, Fox-Pitt is now two legs down, one to go to become the only rider other than Pippa Funnell (in 2003) to win the Grand Slam. "It's a fantastic position to be in," said Fox-Pitt. "This is the closest I've gotten to the Grand Slam–I've never won two four-stars in a row before. It's fairly unlikely [I'll win the Grand Slam], but we'll see." He has two horses entered at Badminton, which takes place next week.
Though his riding looked effortless as always, Fox-Pitt spoke of his rail down at #6a: "I thought that was going to be a tricky fence for him; he was arguing a bit today, and I'll need to have a think about his bitting. He used to be very strong, but he's not so strong anymore, and was shaking his head a bit. He normally jumps a clear round, so that was a bit of a bad moment. It was a serious show jump track."
Watch William Fox-Pitt and Parklane Hawk navigate the Head of the Lake on the Rolex cross-country course.
Interestingly, Parklane Hawk is a full Thoroughbred, which are becoming somewhat less common now that eventing is held in "short format" without a full endurance day, placing more emphasis on flashy dressage tests than the ability to gallop away the miles. (20 of the 57 horses to start at Rolex this year were Thoroughbreds.) He was foaled and raced in New Zealand before coming to Fox-Pitt's barn, already competing at the three-star level. "Thoroughbreds have always been popular, it's just really hard to find good ones that are sensible and haven't raced too long in the UK," said Fox-Pitt. "A lot have raced too long and aren't easily converted. Parklane Hawk raced until he was 7, but he was a big disappointment [on the track]. Now he goes off like a rocket–he still has that in him, but he's got a superb brain. He's a great horse to train–non-confrontational and a big tryer. When you're riding him on a [cross-country] track like Rolex or Burghley you can be down on your time, but the second you put your leg on you'll catch up."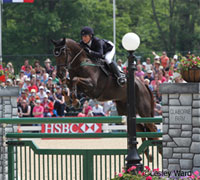 Allison Springer and Arthur of the United States finished a close second at the 2012 Rolex Kentucky Three-Day Event. Photo: Lesley Ward
Second-placed rider Allison Springer had a rail down with Arthur, giving Fox-Pitt the one-rail cushion he ended up using. She remained in second place, but as the highest-placed North American rider, won an 18-month lease on a Range Rover. Arthur also received the "best conditioned" award, which is highly coveted among riders. The pair has come a long way in their show jumping to have just one rail down. "Four years ago (in 2008) I went in show jumping with five rails in hand, and at some point stopped counting because we had so many down," said Springer. "[This year] I was excited to come in the show jumping ring, and was confident in my ride–my best was going to have to be good enough. It's hard in those clutch moments, but we're finally coming together." A second-place finish at Rolex will also go a long way toward a possible U.S. team spot at the 2012 Olympics.
New Zealand's Jonathan Paget had two rails down to drop from third to sixth place. Although this was the third year in a row for the British to win (the last U.S. winner being Phillip Dutton in 2008), Americans held strong in the rest of the top five, with Boyd Martin on Otis Barbotiere in third, Karen O'Connor and Mr. Medicott in fourth, and Will Coleman on Twizzel in fifth.
Piloting Otis Barbotiere in the 10-year-old Selle Francais gelding's first four-star, Martin said, "I was thrilled. We picked up Otis in France at the end of 2010; I rallied a syndicate to buy the horse, but it was a huge gamble. I'm so happy he has confirmed what I thought of him–he's as good as anything I've had, very strong in all three phases." With four horses in contention for the Olympics (the others are Neville Bardos, Ying Yang Yo and eighth-place Rolex finisher Remington XXV), Martin has an enviably stacked deck of horses for selectors to choose from when assembling the U.S. team for London.
It was an incredibly difficult renewal of the event, with only 27 of the 57 riders to start in the dressage phase making it to show jumping. Among those that show jumped, a mere five were able to make it through the challenging, technical course without rails down.
For full results and scores, go to www.rk3de.org
See all Rolex week coverage >>
Final Rolex results:
William Fox-Pitt (GBR)/Parklane Hawk
Allison Springer (USA)/Arthur
Boyd Martin (USA)/Otis Barbotiere
Karen O'Connor (USA)/Mr. Medicott
Will Coleman (USA)/Twizzel
Jonathan Paget (NZL)/Clifton Promise
Andrew Nicholson (NZL)/Qwanza
Boyd Martin (USA)/Remington XXV
Marilyn Little-Meredith (USA)/RF Demeter
Phillip Dutton (USA)/Mighty Nice