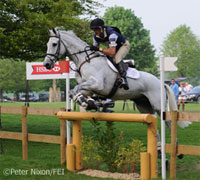 Mark Todd and NZB Land Vision
won the 2011 Mitsubishi Motors Badminton Horse Trials. This year's event was canceled due to heavy rain and dangerous course conditions. Photo: Peter Nixon/FEI
After four days of cooperative weather at the 2012 Rolex Kentucky Three-Day Event, fans and riders were disappointed to learn that the next leg of eventing's Grand Slam, the Mitsubishi Motors Badminton Horse Trials, had been called off. Heavy rain in Gloucestershire, England left the cross-country course dangerously saturated, and more rain in the forecast for this week dashed any hope of the course drying out before the weekend.
The Rolex Grand Slam consists of Rolex, Badminton and the Burghley Horse Trials. A rider who wins the three four-star events consecutively is awarded a prize of $350,000. This feat has only been achieved once, by British rider Pippa Funnell in 2003.
This year, William Fox-Pitt was in contention for the prize, having won the Burghley Horse Trials in 2011 and the Rolex Kentucky last weekend, both with Parklane Hawk. Organizers have announced that they will not reschedule Badminton, leaving no chance at a Grand Slam this year. However, if Fox-Pitt wins Badminton in 2013, organizers have stated that he will still win the prize.
The cancellation is a setback to the eventing community, as Badminton is a popular spectator event and this year would have been an important preparation for this the 2012 London Olympics.
Organizers released the following statement on the event's website:
"The recent exceptional rainfall has left the ground at Badminton totally waterlogged and partially flooded. Further rain is due this week leaving no chance of the ground drying out. Very sadly therefore the 2012 Mitsubishi Motors Badminton Horse Trials has been cancelled.
"Purchasers of advance tickets, exhibitors, Sponsors and riders will of course be refunded as soon as is practical."