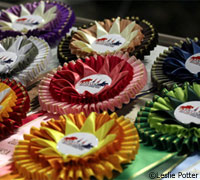 Some of the best college equestrians in North America are in Raleigh, N.C. this week to compete for team and individual titles at the Intercollegiate Horse Show Association (IHSA) National Championship.
In order to qualify for nationals, a team or individual must win championship or reserve championship at their zone finals. Last year's hunter seat champion, Centenary College, and western champion Berry College will both be back to defend their titles this year.
This year's hunter seat teams are: Mount Holyoke; Brown; Skidmore; St. Lawrence; Penn State; Centenary; Goucher; St. Andrews; Virginia Intermont; Savannah College of Art and Design; Miami University of Ohio; University of Kentucky; University of Wisconsin – Madison; Purdue; Stanford; and University of Colorado – Boulder.
The western teams competing are: Alfred University; St. Andrews; Berry; Michigan State; Ohio State; University of Findlay; West Texas A&M; Oregon State; and University of Nebraska – Lincoln.
In hunter seat competition, riders compete in eight levels ranging from walk and trot only to open equitation over fences. In western, there are six levels from beginning horsemanship to open reining. In the team competition, each school must send one rider to compete in each level, so the rider competing at the most beginner level is just as important to the team's score as the most advanced rider.
For individuals, the highest honor is to win the Cacchione Cup on the English side or the AQHA High Point award for western riders. In 2011, the Cacchione Cup went to Centenary rider Marissa Cohen and Rebekah Irish of Black Hawk College took home the AQHA award.
To watch the competition live now through Sunday, May 6, visit LiveSportVideo.com (free registration required.)
Further Reading
College and University Equine Studies Programs
Riding U
Is Your Horse College Bound?