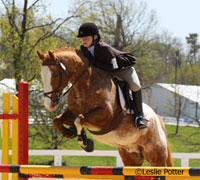 The Appaloosa Horse Club (ApHC) recently announced the international participants for the 2012 Appaloosa Youth Exchange Program. Each of the participants will spend a week with a host family and then compete at the World Championship Appaloosa Youth Show in Tulsa, Okla. this July. These young riders have been nominated by their home country's ApHC affiliate.
This year's international participants are:
Ronja Schmid from Switzerland, hosted by Meneely Show Horses of Conyers, Georgia
Katie Evans from North Wales, hosted by Marshall Appaloosas of Lexington, Oklahoma
Mariella Lucarelli Amadei Silva from Brazil, hosted by Larrabee Appaloosas of Corrales, New Mexico
Fernando Vera, Jr. from Guadalajara, Mexico, hosted by Raggio Ranch of Pilot Point, Texas
Elisabeth Kulmer from Austria, hosted by Saddlebrook Appaloosas of Oconomowoc, Wisconsin
Natalie Samek from Austria, hosted by Mark Shaffer Show Horses of Tioga, Texas
Noemi Pichler from Austria, hosted by Mark Shaffer Show Horses of Tioga, Texas
Since 2005, the ApHC has sponsored this exchange program, which is open to members of the Appaloosa Youth Association between ages 14 and 18. In addition to bringing in Appaloosa enthusiasts from other countries, the program offers American youth riders the chance to travel to Europe and experience the horse industry in another country. The ApHC selects two or three applicants to live with a host family and compete at the European Championships. In the past, the championship has been held in Germany, but this year it will be in France.
The ApHC handles finding host families and covers some of the costs, including class fees and hotel costs for the show.
To learn more about the application process for youth participants or for anyone interested in hosting a participant in the future, visit www.appaloosayouth.com.