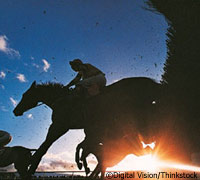 The 71st annual Iroquois Steeplechase took place on Saturday, May 12 under what organizers called perfect racing conditions. However, the annual event in Nashville, Tenn. ended in tragedy when the winning horse, Arcadius, collapsed and died instantly.
When serious injury occurs in steeplechase racing, it is usually due to falls on course. However, Arcadius, an 8-year-old Thoroughbred, had run a clean race, winning the $90,000 first place prize for his owners. According to
a report in the Chicago Tribune
, Arcadius had been brought to the winner's area for photographs, then returned to the cooling area where he collapsed. The veterinarians on site administered IV medication, but to no avail.
Although heat is often a concern at this event, veterinarian Monty McInturff said that heat was not a factor this year on a misty, 70-degree afternoon. The cause of death was ruled a heart attack, which is not preventable.
Steeplechasing has earned a poor reputation in other countries where it is more popular. Great Britain's Grand National has been plagued with an inordinate number of equine deaths over the years, earning annual protests from animal welfare supporters.
The Iroquois has a better safety record, although equine deaths are a part of its history. According to The Tennessean, there have been five deaths in the past 19 years of the race.