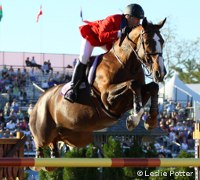 McLain Ward and Sapphire at the 2010 Alltech FEI World Equestrian Games. Photo: Leslie Potter
With two Olympic team gold medals and a World Equestrian Games silver to her name, Sapphire has been one of the most formidable competitors on the international show jumping circuit in recent history. The chestnut Belgian Warmblood mare, known around the barn as Sara, carried her longtime rider and co-owner McLain Ward to numerous victories, making every jump look effortless and winning a loyal fan base over the years. On Monday, May 14, Sapphire was officially retired at age 17.
Ward and co-owners Blue Chip Bloodstock have suggested that Sapphire will be bred, although no official plans or sire have been announced.
Sapphire celebrates retirement by breaking her longtime athlete's diet. Photo by Erica McKeever, Sapphire's groom.
Sapphire suffered an injury toward the end of the 2011 winter circuit in Florida, and Ward opted to give her a full year to recover. She returned to competition this past winter, but Ward took a fall from another of his mounts during a Grand Prix at the Winter Equestrian Festival and broke his knee, sidelining him from competition.
Ward was still given a spot on the long list for the 2012 Olympic team based on his past performances with Sapphire and another mount, Antares F. Because of the challenges in bringing Sapphire back into condition in time for the London Olympics, she will get an earlier-than-planned retirement and Ward will focus his Olympic efforts on Antares.
"I am so grateful that fate chose me as the one to be in her life, be her rider and partner as she blazed her trail into show jumping history," Ward wrote to fans on his Facebook page. "There will be times I will certainly miss her being by my side when the pressure is on but when I think of her, all I have is incredible memories. As I look back, all I can say is 'how lucky were we?'"
The video below shows one of Sapphire's career highlights: Winning the 2009 CN International in a narrow victory over the almost-unbeatable Eric Lamaze and Hickstead. (Sapphire's story begins at 4:30.)