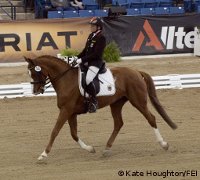 May 21 marked 100 days to go to the London 2012 Paralympic Games. The International Paralympic Committee (IPC) has announced that these will officially be the biggest Games ever, with 165 countries set to participate in 21 sports over 17 days.
Para-Dressage riders from 26 nations have qualified to participate in the equestrian events, which will take place at Greenwich Park from 30 Aug. 30-Sept. 4.
Host nation Great Britain, Germany, Denmark and Canada have qualified the maximum number of riders and will each be represented by a team of four and one individual.
Nine countries – USA, The Netherlands, Brazil, Ireland, Italy, Belgium, South Africa, Australia and France – have qualified four riders.
The National Paralympic Committees (NPCs) of Singapore and Mexico, which had originally qualified four riders, returned one qualification slot each and will be represented by three-rider teams. The unused slots were re-allocated to Norway and Israel on the basis of the Individual Para-Equestrian Rankings of athletes not already qualified with a team. As a result, Norway, which had already qualified two individual riders, will be fielding a composite team consisting of three members.
New Zealand and Finland will be represented by two individual riders apiece. Bermuda, Argentina, Japan, Hong Kong and Austria have each been allocated one individual slot.
Three Bipartite Commission invitations have been issued to Thomas Haller of Austria, Lee Frawley of the Virgin Islands and Anita Johnsson of Sweden.
The nominated entries will be published on June 18 2012 and definite entries on August 6.
A total of 78 Para-Equestrian riders will be battling it out for the 11 sets of medals available.
For more information, visit www.london2012.com/paralympics/equestrian/