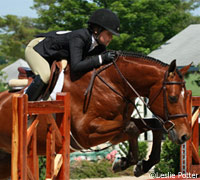 May 24 marks the beginning of the 2012 edition of the historic Devon Horse Show and Country Fair, which runs through June 3. Here are some bits of trivia about this historic event.
1.
The Devon Horse Show is one of the oldest continuing shows in the United States, having started in 1896.
2. Devon is the largest outdoor horse show in the country, a distinction it first earned in 1914.
3. The show has been a charity event since 1919, benefitting Bryn Mawr Hospital.
4. The show has run almost continuously since 1896, but was not held in 1945 due to World War II. In 1943 and 1944, the fair was held but with a dog show in place of the horse show.
5. Devon is a multi-discipline show with Saddlebred and driving classes held alongside the hunter/jumper competition.
6. Annual events that take place outside the horse show arena include the Devon Doggie Parade, Ladies' Hat Contest and Family Day with guided tours through the back-barn areas.
7. This year's show is an Olympic observation event. Show jumping team hopefuls including McLain Ward, Beezie Madden and Laura Kraut will be competing in the $100,000 Wells Fargo Grand Prix of Devon on Thursday, May 31 and the Open Jumper Stake on June 2.
For more information about the Devon Horse Show and Country Fair, visit www.devonhorseshow.net.
Watch McClain Ward compete in the Gambler's Choice at the 2011 Devon Horse Show.