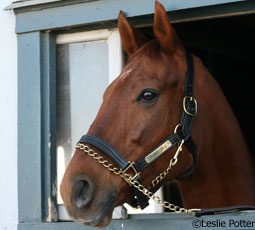 Funny Cide, shown here at the Kentucky Horse Park, is one of the equine artists that created Moneighs to benefit ReRun Thoroughbred adoption. Photo: Leslie Potter
Fans of abstract art and Thoroughbred horses have the opportunity to own some unique home décor this week with the 2012 auction of "Moneighs." A play on the name of French impressionist painter Claude Monet, Moneighs are paintings created by horses—with some human assistance—using paint brushes, tails, muzzles and/or whiskers to create abstract works of art.
The paintings in the current eBay auction were created by Thoroughbred race horses. Fittingly, the proceeds will go to ReRun, a group that facilitates adoptions of retired racehorses.
Among this year's equine artists are:
Funny Cide, the 2003 Kentucky Derby and Preakness Stakes winner who currently resides at the Kentucky Horse Park's Hall of Champions.
Dullahan, winner of this year's Toyota Bluegrass Stakes and one of the top picks for the Kentucky Derby. He is one of the favorites for the Belmont Stakes in June.
Smarty Jones, the almost-winner of the 2004 Triple Crown. He won the Derby and Preakness and came in second in the Belmont Stakes that year.
Cigar, the stallion whose record of 16 consecutive wins (tied with Citation) was a longstanding record from when it was set in 1995 until it was surpassed by Zenyatta in 2010. Now 22 years old, Cigar is a longtime resident of the Kentucky Horse Park's Hall of Champions.
Super Saver, winner of the 2010 Kentucky Derby.
Storm Cat, now 29 years old, the famous sire who at one time commanded the highest stud fee of any Thoroughbred in the world.
Go for Gin, the 1994 Kentucky Derby winner who has the distinction of being the oldest living Derby winner. He is also a resident of the Kentucky Horse Park's Hall of Champions.
To view the Moneighs or place a bid, search "moneigh" on eBay, or click here.
To learn more about ReRun, visit www.rerun.org.