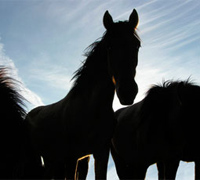 Six emaciated horses were found in a sparse, rural area near San Luis, Colorado last month, and authorities are seeking the public's help in finding the person who abandoned them.
An older palomino mare, a sorrel filly, a bay filly, and three colts—brown, bay and gray—were said to have a body condition of 1 on the Henneke Body Condition Scoring scale when they were picked up by the Colorado Humane Society and Costilla County sheriff's office. One of the horses had to be euthanized because of her condition.
The remaining five horses are currently being rehabilitated at Harmony Equine Center. Some of them are said to be halter broke, which suggests that they had some training in the past. Their rehabilitation will take several months, but employees of Harmony Equine Center are optimistic that they will recover and be adoptable.
The Costilla County sheriff's office is investigating the abandonment and is appealing to the public for any information that could explain the horses' origin. Metro Denver Crime Stoppers is offering a reward for information that leads to an arrest or citation. Anonymous tips are also accepted.
"We need help from the public in finding the owner of these horses," said Costilla County Sheriff Amos Medina. "Their condition indicates that they have been fending for themselves for quite a while, and we hope someone knows where these horses came from."
Animal cruelty is a Class 1 misdemeanor in Colorado. The person responsible for the abandonment could be sentenced to up to 18 months in jail and a $5,000 fine.
For more information and photos of the horses, and to report any information on the crime, visit Metro Denver Crime Stoppers' website.