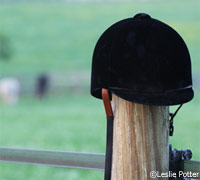 Riders4Helmets.com has teamed up with leading helmet manufacturers around the globe to host International Helmet Awareness Day 2012 on June 9th. In addition to the education events that are happening throughout the day, participating retailers around the world will be offering special discounts on helmets to equestrians on June 9th. You can find a participating retailer near you by visiting /redirect.php?location=www.riders4helmets.com%2fihad.
"In addition to dedicating International Helmet Awareness Day 2012 to Courtney King-Dye, we are proud to also dedicate it to Dr Craig Ferrell, US Equestrian Team Physician and Chair FEI Medical Council, who sadly passed away on May 28th," said Lyndsey White, Riders4Helmets. "Dr Ferrell worked with us on the Riders4Helmets campaign for two years and we intend to continue to grow the campaign globally in his honor."
Helmet brands that have committed involvement in International Helmet Awareness Day 2012 to date include: Samshield, Troxel, Charles Owen, GPA, Aegis (Devon-Aire), Pegasus, Tipperary, Ovation, IRH, One K, Antarès Sellier France and KEP Italia in the USA & Canada. In the UK, Charles Owen, Champion Hats, Gatehouse and LAS have all signed up. Troxel is participating in Australia.
"Riders4Helmets will be live streaming "Get Educated" webinars on Saturday June 9th, in which equestrians will have the opportunity to ask a variety of experts questions. All USA times are Eastern Daylight Time. You can sign up for the talks at https://www2.gotomeeting.com/register/385029170. Space is limited, so be sure to sign up early. (Special thanks to EquestrianProfessional.com for helping bring these educational events to you.) Participating speakers include:
Eventing legend Lucinda Green MBE – "Role Models." Time TBD. (please visit riders4helmets.com on Friday for confirmed time).
Mr Michael Whitlock MD FRCS FFAEM, Consultant Emergency Medicine, London – "The Importance of Helmets." 9:00 a.m.
Paul Varnsverry, Technical Director of PVA Technical File Services Limited – "Point Two – Advances in Body Protector Technology." 10:00 a.m.
Roy Burek, Charles Owen "Helmet Fitting and When To Replace A Helmet." 11:00 a.m.
Olympian and Traumatic Brain Injury (TBI) Survivor Darren Chiacchia – "Accidents Happen To Anybody, Including Olympians." 2:00 p.m.
Olympian and TBI Survivor Courtney King Dye – "My Story." 3:00 p.m.
Mental Skills Coach Tonya Johnston – "Getting Equestrians To Wear Helmets." 4:00 p.m.
For more information on the Riders4Helmets campaign, visit www.riders4helmets.com. You can also follow the campaign at www.facebook.com/riders4helmets and /redirect.php?location=http%3a%2f%2ftwitter.com%2friders4helmets.
Riders4Helmets was founded in early 2010 after Olympic dressage rider Courtney King Dye was seriously injured in a riding accident. King Dye, who remained in a coma for a month following her accident, was not wearing a helmet at the time of the accident, and is still undergoing rehabilitation.