Edited Press Release
The first portion of four USEF National Dressage Championships got underway at the USET Foundation Headquarters Saturday. The Grand Prix National Dressage Championship got the day started in the Dick and Jane Brown Arena. All eyes were watching because this Championship also serves as the USEF Selection Trial for the US Dressage Team for the 2012 Olympic Games.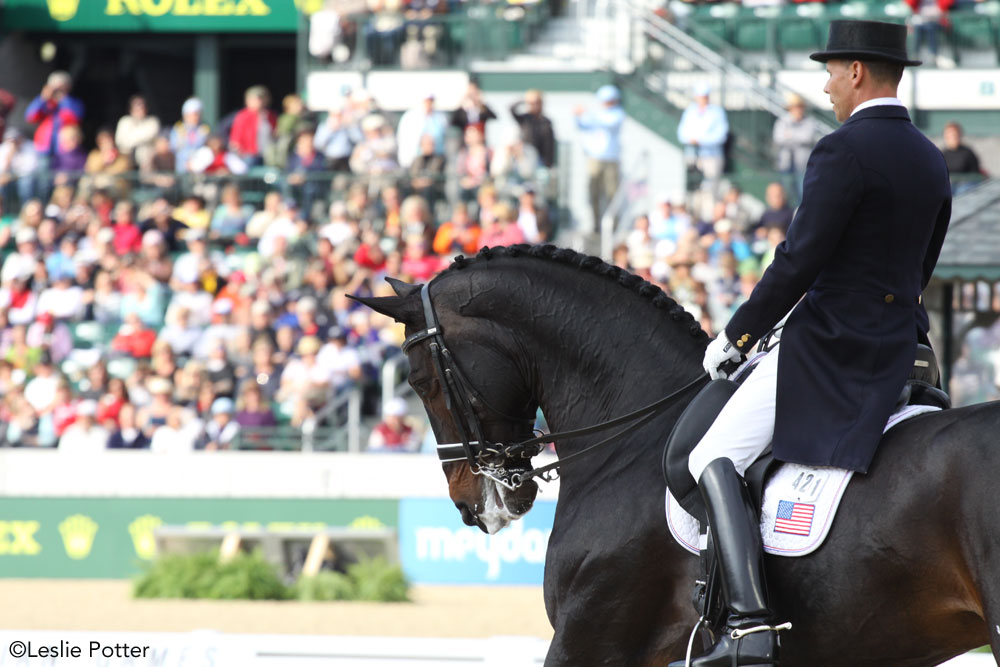 The Ground Jury of Axel Steiner, Linda Zang, Hilda Gurney, Uwe Mechlem, Janet Foy and Natalie Lamping rotated throughout the day to judge the competitions.
The storied facility, which has been used for both training and competition for decades hosts current champions, as well as future – the Young Rider, Junior and Pony Rider National Championships all got underway on day one of the 2012 USEF Dressage Festival of Champions.
"This place has such wonderful history, a lot of champions have come out of this arena," said Steffen Peters, who leads the Grand Prix National Championship.
Peters' student Brandi Roenick took top honors in the Young Rider Team Test with Pretty Lady, trying to go one better than their Reserve finish in 2011. Ayden Uhlir won the Junior Team Test on Sjapoer in her second trip to Festival, and Barbara Davis on Poldy 10 were the best of the National Pony Rider Dressage Championship.
All of the rides are available as on demand videos at www.usefnetwork.com, which also live streamed the event all weekend.
Grand Prix National Championship
Steffen Peters (San Diego, CA) is a consistent winning force on the U.S. Dressage scene, in the last 12 months he scored the 2011 National Grand Prix Dressage Championship, the 2011 National Intermediaire I Dressage Championship, Team and Individual Gold at the 2011 Pan American Games, and the 2012 Exquis World Drrssage Masters – Palm Beach.
But none of those wins came on Legolas 92.
Four Winds Farm's 10-year-old Westphalian gelding is trying to add his own title to that list – and he got off to a great start, scoring 76.064% in the Grand Prix to lead the championship. He only arrived in December from Germany.
"I'm very happy," said Peters. "Since January he's done very well in the piaffe and passage but not as well as he did today. It felt very, very easy. I was able to keep 15 steps in place in every single piaffe. The half-passes felt great."
The scopey gelding also walked with authority, much to the relief of his rider. The flying changes continue to be a work in progress.
"What's quite difficult with him is to get him to walk as relaxed as he did today," said Peters. "But even after the walk tour he was still at 79% that is very exciting. That's the best walk and piaffe passage tour he's done so far. Unfortunately we had the mistake in the one tempis (flying change) – those are still a bit inconsistent. I'm very happy with the twos – the overall feeling was great."
Peters 2008 Olympic and 2012 World Equestrian Games veteran, Ravel, received permission to not attend the Trials based on the Selection Procedures for the Olympic Games – so Peters is taking full advantage of the opportunity to show Legolas the ropes.
"He hasn't seen much of the world yet," said Peters. "He totally stayed with me."
National Champions abound in this division as the 2010 winners: Tina Konyot and Caletco V cruised into the runner-up spot on a score of 72.787%. Konyot (Palm City, FL) was pleased with her horse's effort and feels that they are returning to the form which proved so successful in 2010.
"I had a very, very nice ride," said Konyot. "I had a super warm-up but had a few bobbles in the arena. He felt very relaxed and supple and that is very important with my guy – not that he is a looky horse, but with that big stallion neck of his it is not always that easy to keep him nice and round and supple."
Konyot has made a concerted effort to get the 14-year-old Danish Warmblood fitter – and hacking up the hills at her summer base in Canada has proved beneficial. The strength and stamina were evident in his powerful test, marred only by a mistake in the second pirouette.
Rounding out the top three is another Californian who made the trip worth the miles. Jan Ebeling (Moorpark, CA) and Rafalca have the strength of a long term relationship on their side – their partnership has spanned six years. The comfort level was evident in the ring.
"I think she's really matured over the years and I think she knows me really well and I know her really well," said Jan. "At first yesterday I was a little upset having to go first – but you know what, it doesn't really matter. We go and do our thing and she was great. I'm really happy with her and i think the judging was really good."
They were first to go at 8 am, but Ebeling made the most of his draw and left a lasting impression on the judges. They scored 71.489% for owners Amy Roberts Ebeling and Ann Romney.
Ann Romney is the wife of Republican Presidential candidate, Mitt Romney and is avidly involved in dressage. She was on hand to watch her horse compete.
"I was really happy that they could all make it," said Ebeling. "I think it is wonderful for our sport to have that visibility."
The Grand Prix National Championship takes place over two weekends, with each of the four tests counting equally. It resumes Sunday at 8 AM. The Grand Prix National Championship takes place over two weekends, with each of the four tests counting equally. It resumes Sunday at 8 AM with the Olympic Grand Prix Special and continues June 15 and 16th.
National Young Rider Dressage Championship
Experience led the way in the National Young Rider Dressage Championship as the top three following the FEI Young Rider Team Test are all making return trips to the USEF Dressage Festival of Champions.
Roenick (San Diego, CA) and her 14-year-old KWPN mare were the National Champions in the Junior division in 2008 and eye adding another Championship title to their extensive resume. They jumped out to an early lead in the Young Rider competition after earning a 71.737%. The pair displayed an accurate and forward test highlighted by a flowing trot-tour.
They were able to utilize their experience from previous competitions to produce one of their best performances when it really mattered today.
"I'm more confident, the past few years we've had a lot of ups-and-downs. 2011 we had a very good year, coming here last year and getting Reserve, it was a confidence gainer that she is capable of being successful in the Young Rider division. She's just a hard worker and really wants to please me."
Roenick has recently begun riding Peter's 2011 National Intermediaire I Dressage Champion, Weltino's Magic. She hopes to gain valuable experience riding the Team and Individual Gold medalist from the 2011 Pan American Games. However, Pretty Lady will always hold a special place in Roenick's barn.
"She's always going to be my top horse, no matter what horse I get in the future. She put me on the map and she's put me where I am and she's my horse, so it's a different situation when you're riding your own horse."
Genay Vaughn rode Starr Vaughn Equestrian Inc.'s Donarweiss GGF into second position in the Team Test. The impressive 11-year-old Hanoverian stallion put forth an expressive performance to score 67.263%. Vaughn began riding the stallion last October, but they are quickly building a rapport and she was very pleased with their performance in the biggest test to date.
"I took him to his first CDI and this is the biggest venue he's been to, so he was just a little excited. But he's got a good temperament, the best stallion I've ever seen."
Vaughn (Elk Grove, CA) is making the step-up to the Young Rider division in 2012 after placing third in the National Junior Dressage Championship in 2009 and 2010.
Mackinzie Pooley trotted into third-place as the final rider of the division. Pooley (Coto De Caza, CA) rode Deena Smith's 12-year-old Oldenburg gelding, Brigadier, to a score of 66.763%. Pooley has twice claimed Reserve Champion honors at the USEF Dressage Festival of Champions; in 2008 she was second in the National Junior Dressage Championship and in 2010 she duplicated the feat in the Young Rider division.
National Junior Dressage Championship
Ayden Uhlir stormed into the lead of the Junior Championship with Sjapoer, scoring 68.649 in the FEI Junior Rider Team Test. The 12-year-old KWPN gelding owned Uhlir oozed ring presence as he holds a 1.2 point leading heading into Sunday's final test.
"I was very happy with my ride. You know you always have those rides, where you want to change something once it has happened but it is what it is. But I'm very happy with Sjapoer and the way he handled everything." The sense of occasion is not lost on the 17-year-old as she looks towards tomorrow's Individual Test. "I'm hoping for the best, I feel like I'm living this dream and I don't want to wake-up. But I was really happy and honored to ride with all these riders."
Uhlir (Arlington, TX) competed in the National Junior Dressage Championship last year placing seventh. She credits her improvement this year with knowing her horse better.
"Last year I had only had Sjapoer for four to five months and we didn't get to know each other really well. Now that we've gotten to know each better, we have become friends and kind of gotten to understand each other."
Standing second-place in the division is Rebecca Cohen and Downtown. Cohen (Wellington, FL) utilized the 16-year-old Westphalian gelding's impressive gaits to score 67.263%.
"It was a very solid test, I know that there is a bit more trot he can do but the canter work was really, really good. I had zero mistakes, I felt like my walk-pirouettes were the best I've ever ridden. He stuck with me the whole ride."
Cohen is very pleased to even be able to compete at the 2012 USEF Dressage Festival of Champions after the gelding, which she owns, sustained an infection in a hind leg a month ago then battled colic upon arriving in New Jersey.
"It's really incredible that we did this here today. I couldn't be happier."
Stephanie Early rode Panash into third-place. Early (Watsonville, CA) and the 11-year-old Hanoverian overcame a less-than-ideal warm-up to produce a solid effort scoring 67.297%.
National Pony Rider Dressage Championship
Davis (Whitehouse Station, NJ) dominated the Pony Rider division collecting first and second place ribbons in the FEI Pony Team Test. The 14-year-old was the first horse of the division with Bohdjan, last year's National Pony Rider Dressage Reserve Champion. She demonstrated an accurate, energetic test with the 13-year-old Dutch Pony gelding to score 63.615%.
She would return to the ring six rides later with Poldy 10 and jump-out to the first day lead. The flashy 16-year-old German Riding Pony gelding was all class as he scored 66.974% to hold more than a three-point lead over his stablemate.
Davis was very pleased with Poldy who she has been riding less than a year. She also was grateful to be able to return and work out any mistakes from her first test.
"It was really good for me to mentally shift gears and it's really helpful to learn how to do that. And it was helpful to have another ride so I could fix any mistakes from my riding; that I could go in the ring and address them."
She was equally happy with her first ride of the afternoon, Bohdjan and his demeanor in the arena.
"He was very relaxed today; he was just a really good boy. Today, I was really relaxed and really confident and I think that made him really confident and relaxed as well."
Both Bohdjan and Poldy 10 are owned by Michael Davis, Barbara's father, who also owns Cesar Parra's Grand Prix ride, Van the Man.
Caroline Fernalld (Greenwood Village, CO) made the two-and-a-half day trip to Gladstone worthwhile as she slotted into third-place with Orrwood Madison Bay. The 15-year-old Morgan mare, owned by Fernalld, scored 62.103%.
The Young Rider, Junior, and Pony Rider divisions all perform their respective FEI Individual Tests on Sunday. Those scores will count for the remaining 50% of their overall totals when average with today's Team tests, to determine National Champion honors.