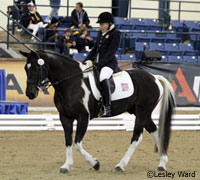 Laura Goldman, shown here with Carlingford JD at the 2010 Alltech FEI World Equestrian Games, is one of the top contenders in Grade 1A at this year's National Para-Equestrian Championship. Photo: Lesley Ward
Competition in the National Para-Equestrian Championships featuring the USEF Para-Equestrian Dressage Paralympic Selection Trials kicked off Monday in five grades. All 24 horses presented at the Veterinary Inspection Sunday afternoon were accepted. Riders perform three tests over three days of competition held at Pine Meadow which is part of the USET Foundation Headquarters. On Monday, riders competed in the FEI Team Test in their respective grade, they then return to ring Tuesday to perform FEI Individual Tests. Competition concludes Wednesday as riders showcase their Freestyle Tests.
2012 marks the first time the National Para-Equestrian Championships are being held as a stand-alone competition.
The USEF Para-Equestrian Dressage Paralympic Selection Trials has seen tremendous growth as 16 riders are vying to represent the U.S. at the 2012 Paralympic Games, August 30-September 4, while only six athletes vied for a team spot in 2008.
All of the National Championship participants are thrilled to be in Gladstone and understand the significance of the venue where many former champions have trained and competed.
"It's awesome; I never thought I'd get to ride at Gladstone. It's fabulous to be here and forever say I showed at Gladstone," said Grade II competitor Dale Dedrick. "It's beautiful and the horses love it here, they feel like they're at home."
In Grade 1A competition, four combinations will vie for top honors. Laura Goldman was the highest placing U.S. rider at the 2010 Alltech FEI World Equestrian Games; she will ride Kai Handt's NTEC Willi Wesley in Gladstone.
Five combinations line-up in Grade 1B, including 2011 National Para-Equestrian Champion Jonathan Wentz. He brings his 2011 Champion, Kai Handt's NTEC Richter Scale and he will also ride Dr. Michelle Miles' Silvano. Former Advanced level eventer, Margaret McIntosh is another Grade 1B competitor with two horses in the division; she rides former Advanced level eventer, Janis Smith's Idalgo and Trudy Phillip's Carlingford JD who was Goldman's ride in Lexington in 2010.
Grade II is the largest division in the 2012 National Championships as seven combinations will compete over the three days. Four-time National Champion, Rebecca Hart brings Jessica Ransehousen's Lord Ludger and Carlingford's Taldi in her pursuit to add a fifth title, to go along with the ones she claimed in 2006, 2008, 2009, and 2010.
A three competitor field makes up Grade III competition. Both Erin Alberda and Wendy Fryke represented the U.S. at the 2010 Alltech FEI World Equestrian Games. Alberda will ride Melissa Mulchahey's Sir Rocco, while Fryke rides her partner from Kentucky, Lateran.
The final section of competition is Grade IV which is composed of five combinations. Robin Brueckmann is one of the most experienced para-equestrian competitors in the U.S. having competed in the 2000 and 2008 Paralympic Games. She rides her partner from 2008, Radetzky, this weekend.
Competition gets underway at 9am ET tomorrow with Mary Jordan riding P. Sparrow Socks in the FEI Grade IV Team Test.
For results, photos, and news visit; usefnetwork.com