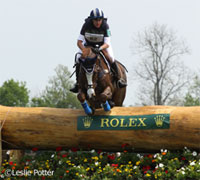 Karen O'Connor and Mr. Medicott are among the 11 entries on the short list for the 2012 U.S. Olympic eventing team. Photo: Leslie Potter
UPDATE:
Marilyn Little-Meredith has withdrawn her short-listed mount, RF Rovano Rex for veterinary reasons. Will Faudree will move up to take her place with Andromaque. Additionally, Boyd Martin's Remington XXV has been added to the short list.
U.S. Olympic team hopefuls competed last weekend at the Bromont International Three-Day Event in Quebec, Canada. The event served as the final selection trial for the eventing team that will represent the U.S. in London this summer.
The CCI 3* was won by American Jonathan Holling of Florida riding Downtown Harrison. Because of the horse's relative youth and inexperience at that level, Holling was not seeking a spot on this year's team, but hopes to continue to bring him along over the coming years.
The second place finisher in the CCI 3* was Boyd Martin riding Trading Aces. Martin is in contention for a team spot with three other horses, including his 2010 Alltech FEI World Equestrian Games mount, Neville Bardos.
Olympic veteran Karen O'Connor won the CIC 3* with Mr. Medicott, securing their spot on the short list.
After the conclusion of Bromont, the U.S. eventing team selectors released the Nominated Entry and short list for this year's team. The short listed horse-and-rider teams will travel to Great Britain where they will compete at the Barbury Castle International Horse Trials June 27 – July 1. After that event, the selectors will name the final team for the Olympics.
The Nominated Entry (shortlisted entries are in bold):
Will Coleman on Jim Wildasin's Twizzel*
Tiana Coudray on Jaital, Inc's Ringwood Magister*
Buck Davidson on Carl and Cassie Segal's BallyNoe Castle RM
Phillip Dutton on Team Rebecca's Fernhill Eagle
Phillip Dutton on Bruce Duchossois' Mighty Nice*
Phillip Dutton on Jim and Arden Wildasin's Mystery Whisper*
Will Faudree on Jennifer Mosing's Andromaque * (Added to short list 6/14/12)
Will Faudree on Jennifer Mosing's Pawlow
Sinead Halpin on Carraig, LLC's Manoir de Carneville*
Marilyn Little-Meredith on Raylyn Farm's RF Rovano Rex* (WITHDRAWN)
Boyd Martin on the Neville Bardos Syndicate's Neville Bardos*
Boyd Martin on the Otis Barbotiere Syndicate's Otis Barbotiere*
Boyd Martin on Henley House Stables' Remington XXV * (Added to short list 6/17/12)
Clark Montgomery Holly Becker and Kathryn Kraft's Loughan Glen*
Karen O'Connor the Mr. Medicott Syndicate's Mr. Medicott*
Allison Springer Carole and William Springer's Arthur*
Substitute to the Nominated Entry:
Becky Holder Phil and Melissa Town's Can't Fire Me
Bromont also served as a final selection trial for the Canadian eventing team. Equine Canada has named its final team:
Hawley Bennett and Gin N Juice
Rebecca Howard and Riddle Master
Jessica Phoenix and Exponential
Michele Mueller and Amistad
Peter Barry and Kilrodan Abbott
Alternate:
Shandiss Wewiora and Rockfield Grant Juan
Follow the 2012 Land Rover U.S. Eventing Team at USEFNetwork.com