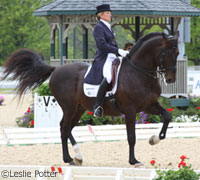 Tina Konyot and Calecto V are ranked second in the nominated entry for the U.S. Olympic dressage team. Photo: Leslie Potter
The USEF has announced the nominated entries for dressage and show jumping for this summer's Olympic games in London.
The final dressage team will consist of three horse-and-rider pairs, plus one that will compete as an individual representing the U.S. The show jumping team will have four pairs.
The dressage nominated entry in ranked order based on results from the USEF Selection Trials & National Dressage Championship:
Steffen Peters and Four Winds Farm's Legolas 92
Tina Konyot and her own Calecto V
Steffen Peters and Four Winds Farm's Ravel*
Jan Ebeling and Ann Romney, Beth Meyers, Amy Ebeling's Rafalca
Adrienne Lyle and Peggy Thomas' Wizard
Todd Flettrich and Cherry Knoll Farm's Otto
Heather Blitz and her own Paragon
Guenter Seidel and Toyon Farm's Fandango
Pierre St. Jacques and his own Lucky Tiger
Kathleen Raine and Jennifer Mason and David Wightman's Breanna
Shawna Harding and her own Come On III
Susan Blinks and the Minnesota Group's Robin Hood
Jim Koford on Shirley McQuillan's Rhett
*In the 2012 Olympic format, three athlete/horse combinations comprise the team and each rider can only ride one horse. Ravel was granted permission to not contest the Trials and is therefore ranked in third.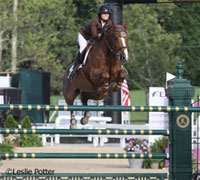 Reed Kessler is ranked 3rd in show jumping with Cylana. If she makes the final cut, Kessler will be the youngest rider ever to compete in show jumping at the Olympics. Photo: Leslie Potter
The ranked order for the U.S. show jumping nominated entry:
Rich Fellers and Mollie and Harry Chapman's Flexible
Beezie Madden and Coral Reef Ranch's Coral Reef Via Volo
Reed Kessler on her own Cylana
McLain Ward and Grant Road Partners' Antares F
Charlie Jayne and Pony Lane Farm's Chill RZ
Beezie Madden and Abigail Wexner's Simon
Reed Kessler and her own Mika
Laura Kraut and Cherry Knoll Farm's Cedric
Margie Engle and Greise, Garber, Gladewinds and Hidden Creek's Indigo
Kent Farrington and RCG Farm's Uceko
Christine McCrea and Windsor Show Stables' Romantovich Take One
Lucy Davis and Old Oak Farm's Nemo 119
Mario Deslauriers and Jane Forbes Clark's Cella
Katie Dinan and Grant Road Partners' Nougat du Vallet
Ranked Alternates to the FEI Nominated Entries:
Saer Coulter and Copernicus Stables' Springtime
Beezie Madden and Abigail Wexner's Cortes 'C'
Jessica Springsteen and Stone Hill Farm's Voranado van de Hoendrik
Keep up with the latest 2012 Olympic equestrian news at HorseChannel.com/Olympics