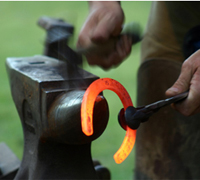 Do you know a farrier or equine veterinarian who provides much-needed work for a therapeutic riding center without charge? Or maybe someone who provides hoof care to an equine group in need of help?
To recognize the dedication and volunteer efforts among hoof care professionals, American Farriers Journal is again sponsoring the "Summit Achievement Award." Started in 2009, this award honors members of the hoof care community who have freely given their time and expertise to help horse owners and groups in need of assistance.
The 2013 award winner will receive $2,000 as well as free registration and paid travel expenses to next winter's International Hoof-Care Summit being held from January 29 to February 1, 2013, in Cincinnati, Ohio. During a ceremony at the Summit, a plaque will be presented to the winner and to the group for which the volunteered services were provided.
Nominate A Volunteer
Anyone can submit a nomination for the 2013 Summit Achievement Award before August 31, 2012. Visit the American Farriers Journal website at americanfarriers.com for further details and to obtain the entry form for this recognition program. In addition to completing this form, please write a 1- to 2-page summary explaining why your nominee should be honored for his or her exceptional volunteer hoof care work.
A panel comprised of hoof-care professionals will select a winner based on the amount of time, money, other contributed resources and the innovation of the contribution in terms of creativity and uniqueness. The judges will also evaluate the impact of the volunteered efforts on the equine community, the level of contribution on the local, regional, national or global level, the results of the volunteered work and the amount of required skill and knowledge.
This is your chance to nominate a well-deserving colleague and show them how much you appreciate his or her dedication and commitment to the equine industry.