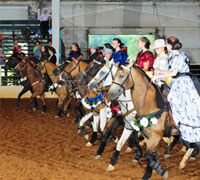 Photo Courtesy USEDA
Equestrian drill teams from around the country are competing for national titles this week at Super Ride X in Lindale, Texas. Youth, adult and senior teams will ride a variety of breeds now through Saturday.
The United States Equestrian Drill Association (USEDA) staff distributed free Super Ride family passes to Lindale ISD students and Lindale rodeo attendees. Over 4900 free passes worth more than $72,000 were given out. Riders from the Ghostriders Drill Team of East Texas sponsored the tickets to spark an interest in equestrian drill riding in horse enthusiasts and fans.
Super Ride X is open to spectators June 19-23 at Texas Rose Horse Park. The family friendly event features thrilling mounted drill team competition. Fans can watch youth and adult teams compete in 26 divisions. 58 teams traveling from across the country will come to compete for World and National Championship titles.
On Thursday, the Ghostriders Cowgirls will ride for their fifth title in National Competition. The Challenged Riders division will exhibit teams with riders with mental or physical challenges followed by the National Title Rodeo Drill. The Canadian Valley Rangerettes will defend their world title on Saturday night.
Saturday Morning presents the spectators' favorite, the theme division. Teams will showcase their equestrian skills in elaborate costumes paired with coordinating music.
The weekend will be wrapped up with the All Stars Team performing immediately after. Top riders are selected from each team to perform the drill with only a few hours of practice promising lots of excitement. Passes are available at the gate for $5, children under 6 are free and parking is $5 per vehicle.
More information on Super Ride and schedules, available at www.superride.org