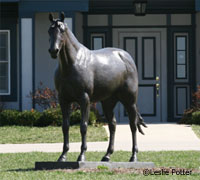 A statue of Secretariat stands outside the Maker's Mark Secretariat Center, a Thoroughbred Retirement Foundation facility in Lexington, KY. Photo: Leslie Potter
Among the notable achievements Secretariat earned during his life are record finishes in the Kentucky Derby and the Belmont Stakes. Now, nearly 23 years after his death, the great Thoroughbred has his name on the Preakness record as well.
In 1973, the electronic timing at Pimlico Race Course clocked Secretariat's winning time at 1:55. When hand clockers from the Daily Racing Form reported the finish at 1:53 2/5, race officials admitted a malfunction of the electronic timer. Per state racing rules, they deferred to the track's official time keeper, who had recorded the finish at 1:54 2/5.
While Secretariat's decisive win at the Preakness was never in dispute, his recorded time did not stand as a race record. Canonero II won the 1971 Preakness with a time of 1:54. Later, that record was bested by Tank's Prospect in 1985 with a time of 1:53 2/5. Louis Quatorze tied the record in 1997, and Curlin tied it again in 2007.
The Maryland Racing Commission met on Tuesday to review photo and video evidence that disputes the 1973 decision on Secretariat's Preakness time. Videos of Secretariat, Louis Quatorze and Tank's Prospect were broken down frame-by-frame and viewed simultaneously. The comparison revealed that Secretariat finished the race more than a length ahead of the two horses that held the record. Video analysis revealed that Secretariat's actual finish was a new record of 1:53.
The effort to correct the timing error began shortly after the race was run. Secretariat's owner, Penny Chenery, contested the time later in the summer of 1973 and again in the 1990s. Chenery was present at the meeting on Tuesday.
"It's nice to finally have this recognized, because the sport depends on accuracy," said Chenery. "This probably won't change the way people feel about Secretariat, but it's nice to get it right."
Secretariat now officially holds the standing records for all three Triple Crown races.