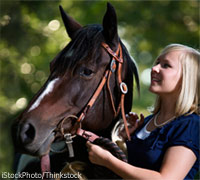 The 2012 American Paint Horse Association Youth World Show kicked off last Friday in Fort Worth, Texas. The competition for young American Paint Horse enthusiasts will continue through this Friday, June 30.
Young riders and their Paints are competing in classes that display the breed's versatility, from western pleasure and reining to hunter/jumper and speed events. Fun classes like ride-a-buck and costume round out the schedule, along with bareback equitation for English and western riders, a new division added to the show this year.
Another new class on this year's schedule is the Freestyle Shankless Showmanship. In this division, exhibitors compete one at a time and are not allowed to have any physical contact with the horse or halter once the pattern begins. Entries will demonstrate their ability to communicate with their horses without the use of a lead shank while performing showmanship maneuvers such as walking, trotting, backing and turning.
The competition can be viewed for free at ywcs.apha.com/videofeeds
Additional special events taking place at the show include:
Youth Team Tournament, a multi-phase event that includes performance classes, hippology, and a knowledge relay
The American Junior Paint Horse Association (AjPHA) Awards banquet and national convention
AjPHA Judging Contest
Youth Member & Regional Club of the Year presentations
Championship dog race/li>
For more information, visit ywcs.apha.com