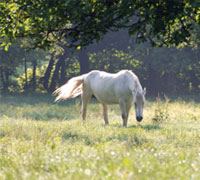 A group organized to help ex-harness racing horses find new homes and second careers is in search of a new home. The Standardbred Retirement Foundation (SRF) has 42 horses currently stabled at its rented Hamilton, N.J. facility, and needs to find a new home for them immediately.
According to
a report from The Times of Trenton
, the SRF pays $4,000/month to rent the facility. The farm's owner, Geeta Madadi, says that the payment doesn't even cover the property taxes and that private horse owners have offered to pay as much as $1,000 to board on the property.
The farm was a labor of love for Madadi's late husband, a horse enthusiast who was killed in a holdup at the couple's pharmacy in 2011. Madadi told The Times that she wanted to continue the arrangement with the SRF in her husband's memory, but she had not been able to make it work financially. When she and the SRF board were unable to come to an agreement about a rent increase, the foundation was notified that it would have to move out.
The SRF has upwards of 150 horses at various facilities at any time. The horses at the Hamilton farm were those considered to be most adoptable. The foundation's central offices are also located there. They are now seeking a facility in central New Jersey to house 35 horses. According to SRF's website, the requirements are that the facility have turnout and shelter, but stalls are not necessary.
In response to the SRF housing crisis, New Jersey-based Standardbred owner Peter Grandich recently announced that he would donate 10 percent of winnings from his two horses to the foundation as they search for new headquarters. SRF recently launched the Win*Win Program that allows owners, drivers and trainers to pledge an amount of their choosing from their track winnings.
For more information on the Standardbred Retirement Foundation, visit adoptahorse.org