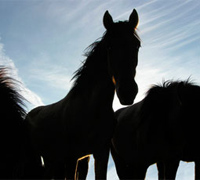 Wildfires are threatening Colorado homes, wildlife and domestic animals during hot, dry and windy weather this week.
The Waldo Canyon Fire near Colorado Springs, Colo. had burned through 15,375 acres of land by the morning of Wednesday, June 27, according to reports. The fire has moved toward populated suburbs, and 32,000 residents have evacuated. By Thursday, 300 homes in the Colorado Springs city limits had been destroyed.
The High Park Fire near Fort Collins is said to be the second-largest wildfire in state history, having burned through 87,250 acres and forced 4,300 residents out of their homes. The fire was believed to be started by a lightning strike on June 9.
Hundreds of horses and other large animals have also been displaced by the fire. At Colorado State University, a team of veterinarians treated hundreds of displaced horses and livestock for free. Many of the animals were suffering from dehydration, smoke inhalation and minor lacerations.
In cases of large-scale natural disasters, evacuating horses can be extremely difficult. Finding a place to go that has room for horses and is out of harm's way is the first challenge. The second is transporting animals to that location. For larger stables and ranches that have more horses than trailer spaces, this may require multiple trips when there isn't sufficient time to do so.
Colorado State University has published a fact sheet on wildfire preparedness for horse owners. Among the key points are:
The most important factor in getting through a wildfire is to have an emergency plan in place ahead of time, and to use it.
Keep an equine first aid kit in the barn or trailer at all times.
Do not try to wait it out. If an evacuation is called for your area, start the process immediately.
When creating your emergency plan, involve your neighbors. Horse owners in the same neighborhood can assist each other with transportation and supplies for a more efficient evacuation.
Read the full fact sheet here: www.ext.colostate.edu