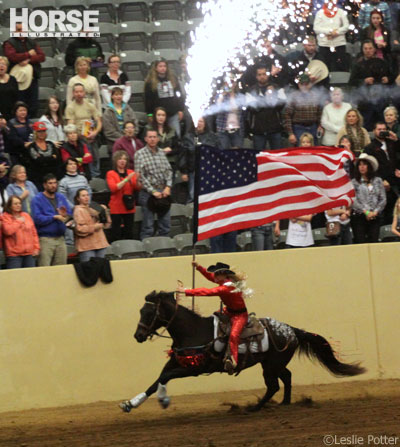 Nothing says summer in America like a day of parades and barbeques with family and friends. But when fireworks are part of the festivities, many horse owners worry, and understandably so. Even a normally unflappable equine can flee for his life when the annual display of noise and colors lights up the sky. There are a few steps you can take to ensure safety for your horse this Independence Day.
It should go without saying, but even if consumer fireworks are legal in your state, the barn is not the place to stage an amateur display. The flashing and booming in close proximity is enough to send most horses into a blind panic, leading to the possibility of exhaustion, sprains and strains or potentially devastating injuries. Even if you're sure your horse can handle the noise, it's not worth the risk. Furthermore, fences, hay, bedding and dry grass are just a few of the highly flammable items found around horse farms in the summer. Avoid the risk altogether and leave the fireworks to the professionals.
If your horse lives close to the location of a professional display, or if you have neighbors who won't be deterred from holding their own light show, here are some things you can do to help your horse get through the night.
In most cases, it's best to keep your horse outdoors where he won't feel trapped. However, if your horse isn't accustomed to being out at night, keep his routine consistent.
A large turnout area is preferable to a small paddock. If your horse is in a small area, there's a risk of him running through the fence.
Check your horse's stall or turnout area for any hazards such as broken boards or holes that could injure him if he does run around.
If your horse is in the barn, leave a radio on playing soothing music. The background sounds can help dull the shock of firework noises.
Watch out for your own safety and don't try to stay with your horse in his stall or next to him in the pasture to comfort him. If the fireworks do cause him to try and escape, you probably won't be able to stop him and will risk getting yourself injured in the process.
As a last resort, if you're certain that your horse is going to have trouble, ask your vet to administer a sedative beforehand.
Start planning ahead for next year. The best defense against fear of fireworks is to desensitize your horse to unexpected sights and sounds using positive reinforcement.