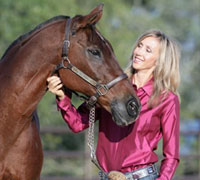 Scamper and Charmayne James
Barrel racing champion Charmayne James announced on her website this week that her beloved horse, Gills Bay Boy—better known as Scamper—passed away peacefully on the morning of July 4, 2012. The American Quarter Horse gelding was 35.
James and Scamper are a legendary pair, having dominated the barrel racing circuit for nearly a decade. Together they earned National Finals Rodeo titles beginning when James was still a teenager in 1984. They took the title again in 1986, 1987, 1989, 1990, and 1993, the year Scamper was retired from competition.
Scamper also won 10 world's championship titles in the Women's Professional Rodeo Association, and with him, James became barrel racing's first million-dollar rider. The gelding, trained by Charmayne herself, was noted for the length of his career in a sport where horses rarely stay at the top of their game for so many years.
He enjoyed a long retirement at James's Texas ranch.
Scamper's memory will live on in an unorthodox way: James already has a clone of her legendary mount. Clayton, as the horse is known, is genetically identical to Scamper, but was left ungelded and is standing at stud. While the American Quarter Horse Association does not register clones or their offspring, Clayton's foals will be eligible for barrel racing competitions on the open circuits.
Scamper is also immortalized in a bronze sculpture commissioned in 2000 by the Pro Rodeo Hall of Fame.