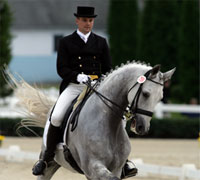 When Lexington, Ky. hosted the 2010 Alltech FEI World Equestrian Games, it was the first time the games had been held outside of Europe. Thanks to the success of Kentucky's event, another American city with a vibrant equestrian community had hoped to take their own shot at hosting the WEG.
Wellington, Fla., which is home to the annual Winter Equestrian Festival (WEF) at the Palm Beach International Equestrian Center (PBIEC), had put in a bid for the 2018 WEG, but the FEI announced on July 9 that the city has withdrawn its bid.
Equestrian Sport Productions (ESP), organizers of the WEF, cited a change in local government as the reason for the withdrawal.
"We are fully aware of the massively positive economic impact the Alltech FEI World Equestrian Games 2010 had on Kentucky," said ESP President Michael Stone. "But we have a responsibility to the local community, equestrian sport, and the FEI World Equestrian Games not to waste the time, effort and resources of all parties involved in the international selection process."
WEF organizers have made several major changes to update the PBIEC over the past year. A hearing by the Wellington village council on July 17 has put the new developments in question, however. According to the Palm Beach Post, the council could revoke its prior approval of the changes, leaving the PBIEC without the anticipated roads and access points.
The WEG are held every four years, in between summer Olympic years. The 2014 games will return to Europe with Normandy, France serving as host. One hope still remains for a North American WEG in 2018: the city of Bromont in Quebec, Canada still has an active bid. The 2018 WEG could also see the first African host as the coastal city of Rabat, Morocco is in the running. The final remaining bid comes from Vienna, Austria.