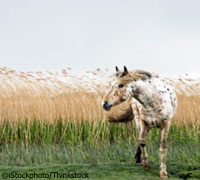 Carrying the distinction of being the longest-running single-breed horse show in the U.S., the National Appaloosa Show and World Championship Appaloosa Youth Show is celebrating 65 years with its 2012 event. The show kicked off on Monday, July 9 and continues through July 21.
The show has come a long way from its origin as a small show in Idaho with just 50 entries in 1947. Today, exhibitors come from across the country and internationally for two weeks of competition in nearly every equestrian discipline. The first week of the show is centered on classes for exhibitors under age 18, while the second week features competition for open and non-pro competitors.
Appaloosas compete in western, hunt seat, saddle seat and driving classes, jumping, speed events, reining, and more. But the National Appaloosa Show also features some classes that aren't found anywhere else. A series of speed classes are run as match races, a fun spectator event where two horses compete on side-by-side identical courses. The "Most colorful at halter" class is a chance for visitors to the show to see the variety of colors and coat patterns found in the breed. The Heritage class is a costume class where exhibitors dress their horses and themselves in authentic apparel from the early days of the Appaloosa.
The rope race is similar to the concept of musical chairs, where riders race to grab a hanging rope at the far end of the arena, and the rider who doesn't get a rope is eliminated.
For more information on the show, visit appaloosa.com