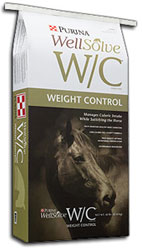 Three Land O'Lakes subsidiaries recalled feed products, including an expansion of the recent PMI Nutrition International recall, due to the potential for elevated vitamin D levels, the companies reported on Friday.
Elevated vitamin D levels may cause death or otherwise be harmful to animals if fed for extended periods, potentially resulting in lack of interest in eating, weight loss and possible joint stiffness, Land O'Lakes reported.
The horse products being recalled are listed below.
| | | | |
| --- | --- | --- | --- |
| Formula No. | Item No. | Description | Lot numbers |
| 35TD | 006925 | WellSolve W/C 40# | All lots APR 02 12 1 thru May 08 12 3, inclusive |
| 35SU | 0046451 | WellSolve W/G 25# (bucket) | All lots APR 02 12 1 thru May 08 12 3, inclusive |
Lot numbers for the WellSolve W/G products are laser printed at the bottom of the label next to the ingredients listing on each bucket. Lot numbers for the other recalled Purina Feed products are laser printed on the back of each paper bag near the top. Lot numbers are formatted as follows (using APR 17 12 2 as an example): APR = Month, 17 = Day of month, 12 = Year, 2 = Plant code.
PMI initially recalled some lots of its Mazuri and LabDiet feed products earlier this month after receiving customer complaints of animal illness and small bird and guinea pig deaths. PMI expanded the recall three days later, and has now expanded it again to include some AquaMax feed products and additional Mazuri and LabDiet products.
All of the products involved in the recalls were manufactured at a feed plant in Richmond, Ind., between Apr. 2, 2012, and May 8, 2012.
The recalled PMI products were distributed throughout the United States and to Canada, Puerto Rico, Guam, the Bahamas, the Cayman Islands, Curacao, Mexico, Cambodia, Japan, China, Taiwan, South Korea, Singapore, Chile and the United Kingdom. The company contacted dealers and asked them to hold the products and retrieve the product from customers, PMI reported.