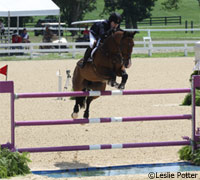 Katharine Dinan and Vancouver won individual gold in show jumping at the 2011 NAJYRC. Photo: Leslie Potter
The 2012 edition of the North American Junior and Young Rider Championship (NAJYRC) officially kicked off on Tuesday with the first horse inspections. Today marks the first day of competition in the five-discipline competition for riders ages 14-21. Here are some facts about the NAJYRC to get you up to speed.
The origin of this competition featured only one discipline, eventing, in 1974. The other four disciplines (dressage, show jumping, reining and endurance) were added one at a time over the years to create the event that exists today.
Endurance was the most recently added sport, new to the NAJYRC just last year.
Five members of this year's U.S. Olympic team competed at the NAJYRC. In eventing: Karen O'Connor; Will Coleman; and Tiana Coudray. In show jumping: McLain Ward and Reed Kessler. In dressage, Adrienne Lyle.
The early days of the NAJYRC were only between the U.S. and Canada. Today, teams come from Bermuda, Mexico, Puerto Rico and the Caribbean Islands in addition to all regions of the U.S. and Canada.
The NAJYRC is the only Federation Equestre Internationale (FEI) championship held in North America every year.
The NAJYRC has been held at the Kentucky Horse Park since 2009. Previous locations include The Colorado Horse Park, Tempel Farms in Illinois, Bromont, Quebec and The Virginia Horse Center.
See an overview of the endurance competition from last year's NAJYRC provided by the Kentucky Horse Park.
The NAJYRC runs through Sunday and is included with admission to the Kentucky Horse Park. For more information, visit www.youngriders.org