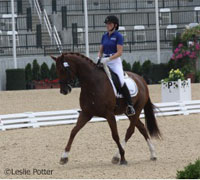 The defending champions from U.S. Region 5 defended their title on Wednesday, winning gold in the young rider division of the North American Junior and Young Rider Championship (NAJYRC). Team gold for the juniors went to Quebec.
The four-member team from Region 5 included several NAJYRC veterans. Brandi Roenick, 17, of Scottsdale, Ariz. earned the top score of the day with a 70.5. Roenick, an aspiring professional rider, is trained by Steffen Peters. Peters was unfortunately unable to coach his student at the show as he is currently in London preparing for the Olympics. Roenick's mount for the NAJYRC is Weltino's Magic, the horse that Peters rode to
gold at last year's Pan American Games
.
Another Region 5 veteran is Madeline Birch, 21, who rode her Dutch gelding, Uoeri, to a 67.842. Birch now has three team golds to her name as she ends her years in the young rider ranks.
Devon Wycoff, 18, of Boulder, Colo. came in close behind birch with a 67.763 aboard her Oldenburg gelding, Power Play. Rounding out the Region 5 team was first-time NAJYRC competitor Victoria Fernalld of Greenwood Village, Colo. Her mount for the competition is a 12-year-old Danish Warmblood gelding appropriately named Amazing.
In the junior division, the team from Quebec took top honors even with three of the four team members being first-time NAJYRC competitors. The high score for the team was a 68.434 earned by Naima Moreira Laliberte, 15, and a Tolando, a 12-year-old Dutch Warmblood stallion.
Laurence Blais Tetreault, 15, from Montreal rode her own Pissaro, a Westphalian gelding, to a score of 66.514. Frederique Bourgault, 17, and an Oldenburg gelding, HG San Classic, were close behind with a 65.514. Second-time competitor Nicole Babich Morin, 16, rounded out the team with her Hanoverian gelding, Foxfire.
Individual dressage competition at the NAJYRC takes place on Thursday with the individual freestyles on Friday.
Team show jumping competition was also scheduled for Wednesday evening. Dark clouds loomed overhead and strong winds and lightning picked up just as the first rider took to the course at 5:00 p.m. Just three riders completed the course before officials held the competition and ultimately decided to postpone it due to severe weather. The show jumping competition resumes Thursday at 8:00 a.m.
Thursday's show jumping competition will be broadcast live at USEFNetwork.com.
Further Reading
Facts about the NAJYRC