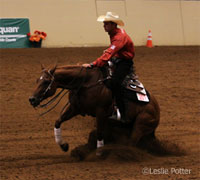 Reed Kyle rode A Ruf Gal to the day's high score in young rider reining, leading the U.S.A. South Central team to gold. Photo: Leslie Potter
The second day of competition at the 2012 North American Junior and Young Rider Championship (NAJYRC) featured show jumping, eventing and the team finals for reining.
Reining
For the young riders, the team representing U.S.A. South Central took the gold medal with four strong rides from the team members. Team member Reed Kyle, 20, was the last rider on the schedule and finished with a bang, posting the day's top score of 214.5. Although this was his first NAJYRC, Kyle is no stranger to team competition.
"In 2010 I went to the Youth World Cup representing the U.S.," said Kyle. "It's almost the same experience. It's really fun to have a group of people and root for each other instead of just being an individual."
Kyle rode A Ruf Gal, a six-year-old American Quarter Horse mare owned by his dad, Pete. Pete Kyle serves as chef d'equipe this year for the South Central reining teams, and happens to also be the regular trainer for two other members of the young rider team.
Kayla Rae Hatfield, 20, also has some previous team experience under her belt. She is a member of the IHSA team at North Central Texas College in addition to competing on the open circuit with her mare, Dunit Gotta Gal.
Fellow Pete Kyle student Chyna Tinney enjoyed her first NAJYRC outing and the comraderie of being part of a team.
"I've never been in a team situation before for the horse events, but I get to ride with Kayla and Reed all the time at the ranch. I just met Jake this week, I guess he's a pretty cool guy," she joked. "We've been getting along great this week. We've had a great time."
The team's veteran competitor, Jake Letner, 19, was the only non-Texan in the group. The incoming University of Missouri freshman posted a score of 214.0 with his American Paint Horse, A Genuine Diamond, putting him in a tie for the second-highest score of the competition.
For the junior riders, it was the team from U.S.A. Southeast wearing the gold medals. All four team members hail from the Memphis, Tenn. area, and all four were first-time NAJYRC competitors.
Diminutive Savannah Ostner, 13, was the team's top scorer, earning a 202.0 from the judges with her palomino Quarter Horse, Sparkin Hot Skidmark. Ostner was excited about having the opportunity to show in the same venue that had hosted world-class reiners for the 2010 Alltech FEI World Equestrian Games.
"I thought [riding in the Alltech Arena] was really cool," she said. "All the big name trainers have shown there, and we get to do it, too. It was lots of fun."
Teammate Meloney Morris, 15, admitted that the scope of the competition was a bit intimidating. "It was kind of scary," she said. "But it's really fun now that I'm here."
Morris rode an AQHA gelding named Mr. Lonely 2006.
Nick Taylor, 14, who rides with Ostner under trainer Casey Deary, enjoyed his first NAJYRC as well. He shows a Quarter Horse named Outlaw Whiz.
Stephen Timberlake, 13, finished just behind Ostner with a 201.5 aboard Whiz Bang Boom. "I came here wanting to finish strong," he said of his first NAJYRC experience. "I didn't really expect to win. It was just a great experience, the entire thing."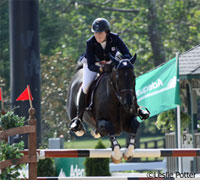 Carrie Smith and Upstaire ended the first phase of show jumping in first place in the young rider division. Photo: Leslie Potter
Jumping
After stormy weather pushed Wednesday's jumping competition to Thursday morning, riders experienced relatively agreeable conditions to finish out Phase 1 of the individual competition.
In the junior division, four riders went clear, led by Abigail McArdle of Barrington, IL. McArdle rode the Hanoverian mare Cosma 20 to the top finish of the day. Shawn Casady of Harriman, Tenn. rode Zubantos, an 8-year-old Dutch Warmblood gelding, to a second place finish. Rounding out the top three was Gabrielle Bausano of New York, N.Y. Who rode Dutch Warmblood gelding Ubico H.
Callie Smith of Bernardsville, N.J. rode Upstaire, an 11-year-old Dutch Warmblood gelding to the top of the young rider standings. Fellow New Jersey rider Meg O'Mara came in second with Sinatra IV. In third was Mattias Tromp of North Salem, N.Y. aboard Dutch gelding Vosqinus.
Show jumping continues on Friday beginning at 4:30 p.m.
Eventing
Eventing got under way on Thursday with the first of two days of dressage. Once again, severe thunderstorms in the afternoon forced a hold on some of the later rides, but all scheduled rides were completed by the end of the day.
In the CCI2*, the combined team from USEA Area VI, VII and IX is currently in the lead, with the top three individuals all hailing from that team. Fourth-time NAJYRC competitor Lizzie Snow, 20, and Coal Creek are leading the standings with 50.7 penalties. First-timer Teresa Harcourt, 21, and Bonza Twist of Fate are in second with 51.9, and fifth-time competitor Kendyl Tracy, 20, and Ever So Lucky are in third with 53.3.
In the CCI1*, Savannah Hilles, 18, is currently in the lead with 47.3 penalties with her horse, Enchanted. Hilles hails from Castle Rock, Colo. and is competing at the NAJYRC for the first time this year. Texas rider Victoria New, 17 is in second with Fleeceworks Mystere du Val with a score of 48.5 penalties. Erin Murphy of Los Angeles and Myster E are close behind with 49.2 penalties.
Eventing dressage continues tomorrow with the main event, cross-country, beginning at 8:00 on Saturday morning.
Watch live coverage of the 2012 NAJYRC at USEFNetwork.com.
Further Reading
U.S. Region 5 and Quebec Win Gold
Six Facts about the NAJYRC