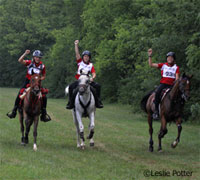 Endurance
At 6:30 on Friday morning, a set of intrepid horses and riders set off on a 75-mile ride from base camp at the Kentucky Horse Park. The day started cloudy and cool, favorable conditions for the race, which is made up of five loops through the park and surrounding farms.
Although it is one of the most popular equestrian sports worldwide, endurance is still growing in North America. But with the group of seasoned young equestrians participating in this year's competition, the future of the sport here is bright.
Four teams started the day, plus two individual riders for a total of 17 competitors. Riders represented three U.S. regions: Southeast, Central, and a combined team comprised of riders from other regions. Canada sent a single team of three riders. Mexico and Guatemala sent one rider each.
In order to qualify for a team medal, three riders must complete the race and have their horses pass the final vet check. This put the team from Canada at a disadvantage as they only had three riders instead of the four that each U.S. regional team had. However, by the end of the day, Canada was the only team to still have three riders in contention. The team cantered to the finish line together victoriously, with only the final check standing between them and team gold.
On the individual side, Katherine Gardner came through the finish line first and headed to the vet check. When her horse, AF Big Bucks, passed the final inspection, cheers erupted from Garnder's U.S. combined teammates. USEF Youth Equestrian of the Year Kelsey Kimbler rode Fringant to a silver medal finish.
The medal ceremony for the endurance riders will be held on Saturday.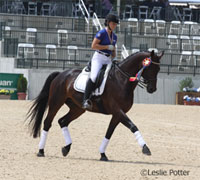 Dressage
The junior and young dressage riders returned to the Rolex Stadium again today to compete for individual medals.
Brandi Roenick, 17, is becoming very familiar with the top of the podium. The San Diego, Calif. rider earned a 74.947 with Weltino's Magic to earn young rider individual gold.
"I was a little less nervous today," Roenick said. "Today I felt a little more comfortable on my horse. It was cooler out and I was able to focus more. I had more confidence going into the day than I did on Wednesday."
Roenick, has only been riding Weltino's Magic, who she calls M&M, for less than three months. But she'd spent plenty of time with the stallion at Steffen Peters' farm where she trains.
"His pen faces the driveway, and when I pull up the driveway, he says, 'Oh, here comes the treat girl!'" she says. "Once I started riding him, I started paying more attention to him and being more than the treat girl. I spent eight weeks with him at Gladstone, and when I didn't have anything else to do, I'd just pull a chair up in front of his stall and play with him and he'd fall asleep on my shoulder. He and I have a special bond and the way we adapted to each other in such a short amount of time has been absolutely amazing."
Monica Houweling, 19, of British Columbia added to her collection of NAJYRC, earning the individual silver. Houweling is still getting to know her horse, Rifradin, as well, but their final score of 71.237 suggests a promising future for this pair.
"[Rifradin] was with Debbie MacDonald for five years and I had the chance to work with Debbie when she was in California where I'd been training," says Houweling. "Since that point, we clicked all of a sudden, and then she was on my side. Since then, it's just been amazing.
Houweling has competed at the NAJYRC twice before, earning bronze and silver last year.
"I loved [competing at NAJYRC] with my junior horse last year," she says. "You get that feeling on the podium, you just want it. It's just so much fun being here. I love the competition, and of course I wanted to challenge myself to come out in young riders. With my new horse, it's a whole new ball game, and I was ready for it."
Alexandra Reid, 20, made her first trip to the NAJYRC this year from her home in Ontario, and has a bronze souvenir to take home after the individual competition. Reid has been working with her horse, VIP, since January of this year.
"It was tough in the beginning," she says. "He's a different caliber of horse than I've ever had. When we were in Florida, I spent every day with him, and we just started to bond. He nickers when I come in the morning, and I said, 'Okay. Now our test will be okay because he nickered at me in the morning.'"
"I've always wanted to come here, ever since I could breathe," she adds. "It's just never worked out with horses. Something's happened, or I haven't had a horse. Finally the opportunity came along and I'm finally here!"
Further Reading
Team Reining medals awarded
Region 5 Young Riders win gold
Six Facts about the NAJYRC