After a week of challenging weather and top competition, The FEI/Adequan North American Junior Young Rider Championships (NAJYRC) concluded this weekend with the final medals awarded in eventing, freestyle dressage, individual reining and show jumping. Additionally, the endurance winners received their awards in a special presentation in the Alltech Arena on Saturday.
Endurance
The United States had a sweep of the individual medals in endurance with a trio of seasoned young riders. Gold went to Katherine Gardner, 20, riding AF Big Bucks for the U.S.A. combined regional team. Gardner finished the 75-mile race in just six hours, 11 minutes and 48 seconds. Kelsey Kimbler, 19, of the U.S. Central team finished just one second behind to earn silver with Fringant. Fingant also received the coveted "Best Conditioned" award, which is based on the horse's condition at the final vet check at the end of the race. Taking home the bronze was Cassandra Roberts, 16, of the U.S. Southeast team riding her Arabian/
Saddlebred
mare, CA Classy Marina.
The three riders from Canada were confirmed as the gold medalists in the team competition. Lee Hutten and Parker AES, Jessica Yavis and Jahlad, and Emma Webb and Serloki finished together and were the only team to have three riders complete the race. When the three Arabian horses had passed the final vet check, Canada's gold-medal status was confirmed.
The team, individual and best-conditioned medals were awarded the day after the race in the Alltech Arena where the riders took a well-deserved victory lap.
Reining
The NAJYRC's one western sport, reining, concluded on Saturday afternoon with the individual finals. In the youth division, Reed Kyle repeated his team competition performance to again win the day's top score, a 218.5, and with it, another gold medal. Kyle rides 6-year-old AQHA mare, A Ruf Gal. Laura Sumrall rode her mare, Einstein's Fancy Pine, to a 214 and the silver medal. Jake Letner of Missouri took bronze after scoring a 210 with his Paint horse, A Genuine Diamond.
In the junior division, Canadian rider Haley Franc earned a gold medal for the red and white. Franc scored a 212 with her horse, Jack's Shy Boy. 13-year-old Stephen Timberlake took the silver with his longtime partner, Whiz Bang Boom, a Quarter Horse he's ridden for five years. Taking the final spot on the podium was Kaylan Marks who rode her horse Sparts Electricspark to a 205.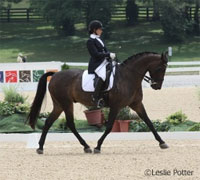 Dressage
The dressage competition closed out with the popular freestyle, where riders select music and create a test to showcase their horse's strengths. In the youth division, it was no surprise to see Brandi Roenick, 17, on the top of the podium to accept her third gold of this year's NAJYRC. Roenick's freestyle, for which she earned a score of 72, might look familiar to avid followers of top-level dressage. The test was the same that Roenick's leased horse, Weltino's Magic, performed with her trainer, Steffen Peters, just last year at the Pan American Games.
Monica Houweling of British Columbia were close behind with a 70.825, earning them a silver medal. Teammate Mathilde Blais Tetreault of Quebec took the bronze medal with a 69.325.
Dressage was a family affair this year, as Mathilde's sister, Laurence Blais Tetreault rode her Westphalian gelding, Pissaro, to a 73.575 and the gold medal in the junior rider division. Fellow Canadian Mariah Sutton of Ontario, who rode her Oldenburg, Renoir, to a 71.050, joined her teammate on the podium to accept her silver medal. Ayden Uhlir and Sjapoer, a 13-year-old Dutch gelding earned a 70.125 and the bronze medal.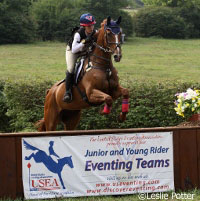 Eventing
The eventers had weather conditions working in their favor on Saturday for the cross-country phase. Mostly overcast skies, relatively cool temperatures and no rain made for smooth going on the challenging course. The horse-and-rider teams that successfully finished on Saturday went on to vie for team and individual medals on Sunday morning in the show jumping arena.
In the two-star division, Connor Husain went double clear on cross-country and show jumping to finish first on his dressage score of 53.9, earning him the gold medal. Hot on his heels was Lizzie Snow and Coal Creek who added 4.4 time penalties from cross-country to their 50.7 dressage score to finish a close second. Snow was also part of the combined Area VI, VII & IX team that earned team gold in the two-star. Lexi Scovil and Sky Show also had clear cross-country and show jumping rounds to earn bronze with a total of 55.9 penalties. Scovil and Husain were both members of the Area II, III & IV team that took team silver.
In the one-star division, Victoria New went clear on cross-country, moving up from second to first place with Fleeceworks Mystere du Val. Even with four penalties in show jumping, she was able to hold on to her lead to earn individual gold. New led Area V to a team gold as well. Hanna Krueger went double clear on cross-country and show jumping, putting her in silver medal position by just 0.4 penalties with her horse, Pinney North. Matilda Segal and Guinness X were clear on cross-country and had just one rail down in show jumping, putting them in position for bronze. Segal also earned silver as part of the team from Ontario.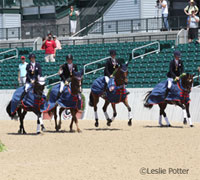 Show Jumping
Show jumping is arguably the most competitive of all the sports represented at the NAJYRC. Success here could translate to future greatness on the international circuit, as current U.S. Olympians Reed Kessler and McLain Ward are both NAJYRC alumni.
This year, Kilian McGrath rode Salerno, a 13-year-old Dutch gelding to individual show jumping gold in the young rider division. Kilian is from Westlake Village, Calif. Taking silver after a successful week of show jumping was Callie Smith and her Dutch gelding, Upstaire. Teammate Lydia Ulrich rode yet another Dutch gelding, Santos Utopia, to individual bronze. Smith and Ulrich were part of the gold medal effort by Zone 2.
For the juniors, Abigail McArdle achieved the incredible feat of five faultless rounds with Cosma 20, a nine-year-old Hanoverian mare. McArdle's perfect week was rewarded with individual gold and team silver as part of Zone 5. Shawn Casady rode 8-year-old Dutch gelding, Zubantos, to silver after narrowly defeating eventual bronze medalist Charlotte Jacobs in a tie-breaking jump off. Jacobs rides Kachina, a 15-year-old Selle Francais mare.
Zone 2, which consists of New York, New Jersey, and Pennsylvania, proved itself a show jumping powerhouse as its juniors joined the young riders as team gold winners.
Further Reading
Endurance headlines third day of NAJYRC
Team Reining medals awarded
Region 5 Young Riders win gold
Six Facts about the NAJYRC