The United States is sending three dressage riders to compete for team medals and one rider to represent the country as an individual. Here's an introduction to these riders and their horses who will be competing for gold in London beginning on August 2.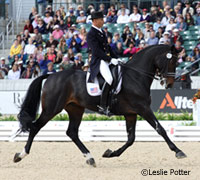 Steffen Peters and Ravel. Photo: Leslie Potter
Steffen Peters and Ravel
The most experienced pair on this year's team, Steffen Peters and Ravel will have some high expectations to live up to in London. They were the highest placing American pair at the 2008 Beijing Olympics, coming in just out of the medals in fourth place. They took two bronze medals at the 2010 Alltech FEI World Equestrian Games and are the only American competitors to win the Rolex/FEI World Cup in dressage.
Peters was born in Germany but became a U.S. citizen in 1992. He and his wife, Shannon, currently operate a training facility in San Diego, Calif. With his horse Udon, he was part of the bronze-medal winning U.S. team at the 1996 Atlanta Olympics and was an alternate for the 2004 Athens games with Floriano. Ravel entered Peters' life in 2006 when the Dutch-bred gelding was imported from Edward Gal's stable. Now 15, Ravel is the equine veteran of this year's team.
Jan Ebeling and Rafalca
Another German import, Jan Ebeling has been competing for the U.S. since 1998 and has been a resident of the U.S since he came to work with Olympian Robert Dover in 1984. In 2003, Ebeling and his stallion Feleciano led the U.S. team to team gold at the Pan American games in the Dominican Republic.
Ebeling has been overshadowed by his Olympic mount, Rafalca, and the mare's co-owner, Ann Romney, wife of GOP presidential nominee Mitt. Romney owns the 15-year-old Oldenburg in a partnership with Jan's wife, Amy Ebeling, and Beth Meyer. Rafalca and Ebeling have represented the U.S. the FEI World Cup Finals in 2007, 2009 and 2011. The pair placed third at this year's USEF Selection Trials & National Dressage Championship.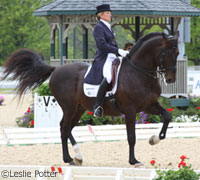 Tina Konyot and Calecto V. Photo: Leslie Potter
Tina Konyot and Calecto V
Another pair of 2010 WEG veterans, Tina Konyot and her Danish Warmblood stallion, Calecto V, are headed to their first Olympics this year. The duo is a crowd favorite with their freestyle to K.T. Tunstall's pop song, "Black Horse and the Cherry Tree," which won them first place at the 2010 Kentucky Cup Dressage in the lead up to the WEG.
Konyot's equestrian history starts before she was even born. Her father trained dressage horses and riders in Florida at a time when dressage was not well-known in America. Her grandfather was a horse trainer and rider for Ringling Bros. and her grandmother was a bareback equestrian and ballerina in the circus. A lifetime equestrian, Konyot is one of the top Grand Prix riders in America. With Calecto, she won the musical freestyle at the 2009 Dressage at Devon, won all four Grand Prix classes at the 2010 USEF Collecting Gaits Farm/USEF Festival of Champions, and finished second in the USEF Selection Trials & National Dressage Championship this year. Konyot trains in Connecticut and Florida.
Adrienne Lyle and Wizard
Competing as an individual rider at her first Olympics, 25-year-old Adrienne Lyle is a relatively young competitor at this level of dressage. Her solid finish at the USEF Selection Trials with 13-year-old Oldenburg gelding Wizard proved that she has what it takes to compete with the best. Lyle got the ride on Wizard when she was a working student for Olympic veteran Debbie McDonald. In 2008, they won the Brentina Cup and entered their first Grand Prix in 2009. The pair's wins in Grand Prix include 2011 Dressage at Devon, 2012 World Dressage Masters, 2012 in the Grand Prix and Grand Prix Freestyle 5* at West Palm Beach.
Having grown up on a cattle farm, Lyle brings a diverse equestrian resume with her. Starting in western gaming, she switched to eventing when she joined the U.S. Pony Club at age 7. She shifted her focus toward dressage when she was 13 and started working for and riding with Debbie McDonald in 2005.
Keep up with all the Olympic equestrian news at HorseChannel.com/Olympics.