Of the three Olympic equestrian disciplines, show jumping is the most popular and the most competitive. The U.S. teams have had success in recent years, and this year's team hopes to continue the tradition. Two of the riders are Olympic veterans and two are first-timers. All of the riders will have their work cut out for them when jumping competition begins in London on August 4.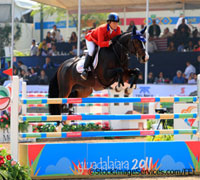 Beezie Madden and Coral Reef Via Volo. Photo: StockImageServices.com/FEI
Beezie Madden and Coral Reef Via Volo
One of America's most beloved equestrians, Beezie Madden will be contesting her third Olympics this year with a new mount, Coral Reef Via Volo. With her now-retired partner, Authentic, Madden brought home team gold medals from the 2004 and 2008 Olympics and individual bronze in 2008.
Coral Reef Via Volo has been a part of Madden's show string since 2010. In that year, the pair won seven grands prix. The 14-year-old Belgian Warmblood is known around the barn as "Shrimp" thanks to her relatively diminutive 15.2-hand stature, but her height hasn't kept her from competing against the best—and winning. With Madden, she won team gold and individual silver at last year's Pan American Games.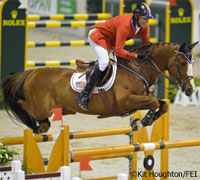 Rich Fellers and Flexible. Photo: Kit Houghton/FEI
Rich Fellers and Flexible
At ages 52 and 16, Rich Fellers and Flexible have plenty of years of experience in top-level show jumping between the two of them. Although this is his first Olympics, Fellers proved he was more than ready by winning the 2012 FEI World Cup Championship, the first American to do so in 25 years. He and Flexible won the Husky Energy Classic and the $200,000 CN Performance Grand Prix at Spruce Meadows in June of this year, one of the observation events for the Olympic team selectors.
Flexible, an Irish Sport Horse stallion, will be at his first Olympics as well, and has the distinction of being the oldest horse on the U.S. team (tied with eventer Will Coleman's mount, Twizzel.) But age hasn't slowed him down. In fact, it seems to be an asset.
"He's in self-peaking mode right now," Fellers said of Flexible after their victory at Spruce Meadows. "I don't do anything. I just ride him…I don't know why he's staying so good at every show. I just hope it continues."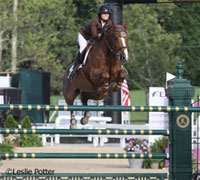 Reed Kessler and Cylana. Photo: Leslie Potter
Reed Kessler and Cylana
In contrast to Fellers and Flexible, Reed Kessler and Cylana can claim to be the youngest pair on the U.S. equestrian team. In fact, Kessler turned 18 in July, just in time to meet the minimum age and set a record as the youngest rider to compete in Olympic show jumping. Not only did she make the team while she was still just 17, but she reached the top of the long list after wins during the U.S. Olympic Selection Trials and the USEF National Show Jumping Championships (a win she shared with veteran rider Margie Engle.)
At 10 years old, Cylana is the youngest horse on the team (along with eventer Boyd Martin's Otis Barbotiere.) The Belgian Warmblood mare made her grand prix debut with Kessler just this year during the Winter Equestrian Festival. The pair followed up their national championship with strong finishes in the observation events and a win at Spruce Meadows.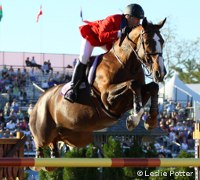 McLain Ward, shown here with his 2004 and 2008 Olympic mount, Sapphire. Photo: Leslie Potter
McLain Ward and Antares F
McLain Ward has had a few setbacks this year. After a fall at a horse show in Florida left him with a broken kneecap, he was sidelined for months. Fortunately, his stellar past performances were enough to convince the team selectors to give him a shot at this year's team even though he couldn't compete in the observation events. Then, just after he returned to the show ring, he made the decision to retire Sapphire, his top horse and Olympic partner from 2004 and 2008, where they were part of the gold medal teams.
Nevertheless, Ward pulled through and made the team with Antares F, an 11-year-old Wurtemburger gelding. Ward has been riding Antares F for the past two years. In 2010, they won the Longines Grand Prix in Dublin and the Credit Suisse Grand Prix in Geneva. In 2011, they won the Winter Equestrian Festival challenge cup. Ward and Antares were part of the American team that brought home gold from the 2011 Pan American Games.
Keep up with all the Olympic equestrian news at HorseChannel.com/Olympics.